Join GMR Web Team for Google Partners YouTube Connect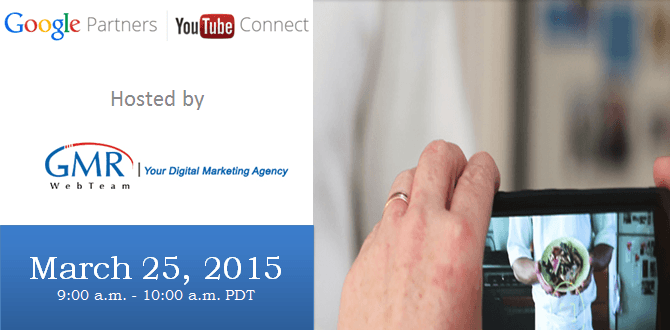 GMR Web Team, a Google Partner, is delighted to announce that it will be  hosting another livestream Google Partners Connect Event on March 25, 2015. All local business owners are invited to attend. This event is a great opportunity to learn from YouTube experts about how to leverage YouTube video ads to grow their business in 2015 since it is the year of the digital video.
What you'll learn from our event Speakers
Brand Advertising in the Digital Age
From
Suzie Reider
Managing Director – Brand Solutions
Suzie will share exclusive insights about YouTube audience and devising content strategy to help businesses connect with customers in deeper and more meaningful ways.
Growing with YouTube video ads
From
Mark McMaster
Global Product Lead – YouTube Advertising
Mark will get down to the brass tacks of YouTube video advertising for businesses and share real life examples.
The one hour livestream event will be a complete learning experience for all of us. Learn, discuss and enjoy refreshments on us!. RSVP now because space is filling up quickly.
Sincerely, Ajay Prasad CEO, Founder - GMR Web Team
---
Venue Details
Where
The livestream will take place at our GMR Web Team Headquarters in Tustin, California.
Below are the details.
GMR Web Team 2552 Walnut Ave., Suite 110 Tustin, CA 92780 United States
When
March 25, 2015 9:00 a.m. - 10:00 a.m. PDT
We hope to see you there.
Click here to RSVP for the event