The 11 Most Important Google AdWords Updates of 2015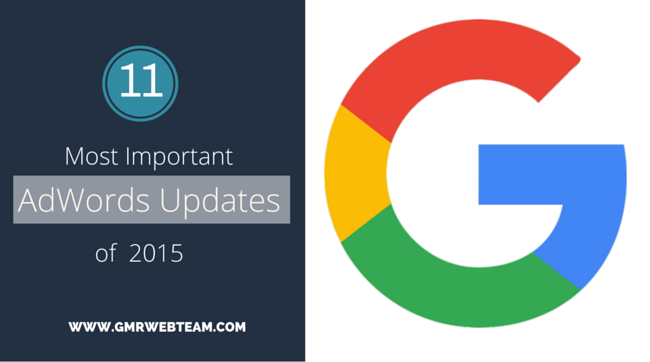 "Should old acquaintances be forgotten, and never brought to mind?"
As you prepare to turn the page on your online advertising efforts from 2015, it's time to answer the age-old question levied in "Auld Lang Syne," the classic New Year's Eve song that often rings in the New Year. The answer, of course, is: "No." At least not when it comes to the most important Google AdWords updates from the past 12 months. Yes, the New Year will no doubt introduce you to new updates that will change the way you manage your online advertising. But in the meantime, you can still learn something from reviewing the year that was. With that in mind, here is a look at the 10 most important Google AdWords updates of 2015.
1. Google's Customer Match
Customer Match
is perhaps the most important update of the year. It was rolled out to reach target customers or prospects the moment they sign in. Of course, the purpose of AdWords is serving your ad at the right moment, but with Customer match, the process got better, faster and much easier. Now businesses can reach out to specific users in Google search, Gmail or YouTube who would have done a transaction on your website before. Moreover, this feature would help advertisers attract a similar audience who can be targeted on Gmail, YouTube or in Google search. Using Customer Match, you can upload a list of your customers' email ID and serve your ads when they are signed in.
2. Call-Only Ads
In February,
AdWords rolled out Call-Only Ads
, a way to let businesses add their phone numbers in their respective search ads along with the title and description. As per Google, 70% of mobile searchers call a business directly from search results. The new feature of Call-Only Ads is based on this finding and is proving extremely useful for businesses.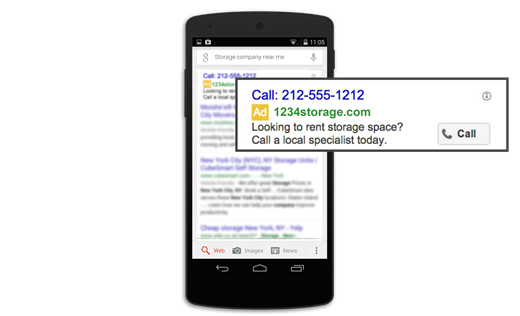 Through Call-Only Ads, an advertiser has an option to customize the call to action button to make ads more effective. This feature is designed to appear on mobile devices so that the end user doesn't have to go through multiple steps to contact the businesses they are looking for.
3. Compare Your Search Term Coverage to Market Leaders
It's always good to know how you stack up to the competition. In April, Google made it easier to quantify the effectiveness of your online advertising efforts, especially when compared to competitor domains and market-leader domains. The "
Search volume trends
" tool was designed to help you see how your impressions stack up to your competition—and then use that information to refine your strategy.
4. Cross-Account Campaign Management
Products, people, and preferences change like the weather, making it difficult to keep up with all the changes you need to make to your multiple campaigns. That's why it was so important that on Thursday, June 4,
Google unveiled enhancements to AdWords manager account
, a tool to save you time and effort as you manage multiple accounts. The updates allow you to manage cross-account campaigns from one dashboard and benefit from reports that were more detailed and accurate than ever.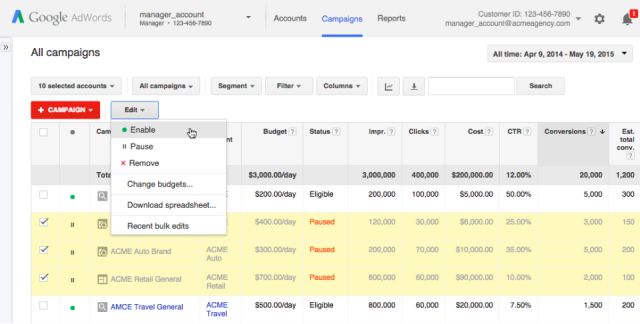 5. Bulk Upload
Speaking of multiple accounts, in May, Google
introduced
a way to make many updates to many accounts at once. The new bulk upload tool made it faster and easier than ever to make changes to keywords, ads, groups of ads, products, and campaigns. Bulk uploads provided you with one spreadsheet on which you could change your bids—at one single time.
6. Enhanced Dynamic Search Ads (DSA)
For the past three years, Dynamic Search Ads have been doing a good job of helping advertisers understand how to reach customers the moment they search. In July 2015,
Google improved the system further
and made it available globally to all advertisers. Google claims that it takes less than 10 minutes now to set up a campaign, thanks to Enhanced Dynamic Search Ads.
7. Dynamic Call-Out Extensions
Call-out extensions were already a part of AdWords, but in Sep 2015, Google introduced
Dynamic Call-Out extensions
. Unlike the previous version where advertisers had to manually enter meaningful texts about a product or service, the new version lets Google dynamically generate texts. These texts are based on user queries and are pulled out directly from your landing page.

However, advertisers who don't want these dynamically generated texts to show with their search ads can opt out of it by filling a simple Google form.
8. Ease of Display Ad Campaign Creation
Every display ad campaign in AdWords is created with a specific marketing objective. In August, Google
introduced
a new set up to create display ad campaigns. This new setup comes with a list of objectives. All you have to do is identify your marketing objective—drive calls, clicks or consumers to a storefront, for example—and Google will make sure you only pay for an ad when a user is actually interested enough to click on your ads.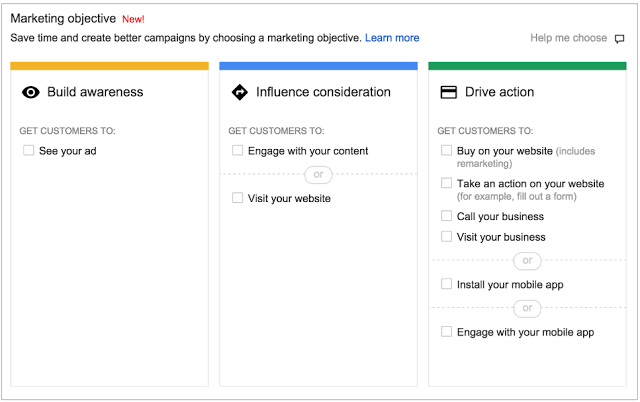 9. New Report Editor to View and Analyze Your Campaigns
In August, Google AdWords introduced Report Editor - a powerful tool that allows advertisers to manage their campaigns. However, this wasn't made available to global users until September, when Google
officially made the Report Editor tool
available to all the advertisers. Moreover, the reporting graph also got new updates including age, gender, and placement targeting.
10. Manage TrueView Video Campaigns Directly from AdWords Interface
Running TrueView video campaigns and managing them in AdWords used to be a pain in the neck earlier. But in September, Google gave advertisers a sigh of relief and a sense of joy with the announcement of
bringing the TrueView campaigns right into the AdWords interface
. You can see "Video Campaigns" along with Search and Shopping Campaign in AdWords.
11. Improve Mobile Performance
Most people use their mobile devices to search for information and shop. That means you need to make sure your ads are optimized for mobile devices—and showing up on the top of the screen. In November, Google made an AdWords update and introduced the
mobile bid adjustment simulator
. It provides you with information about how bid adjustments (such as agreeing to pay more for mobile users) are likely to impact the number of impressions and clicks you get from mobile users. The Simulator has only been made available to shopping and search campaigns that have been run for mobile devices. This list of the important AdWords updates of 2015 is our wind up post for the year 2015. We will come up next year with more such updates and blog posts. 
Wishing you a Happy New Year 2016!