How to Get New Chiropractic Patients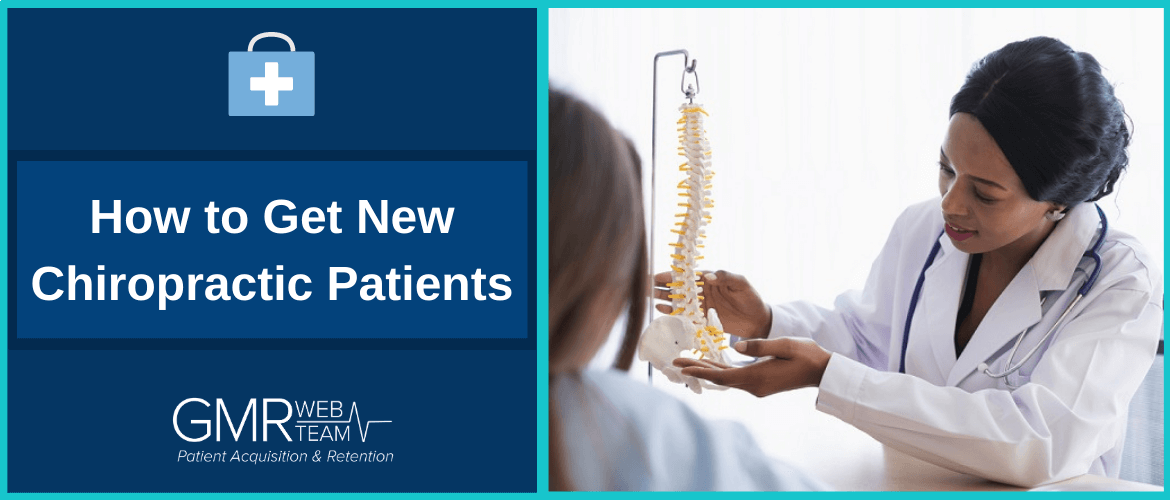 Every year, about 7.5% of American adults seek chiropractic services due to health issues. Even with millions of Americans seeking chiropractic care, the competition for patients is stiff. This is why you need to effectively market your chiropractic practice to beat your competition and maximize your profits. To get started, here are ten tips on how to get more chiropractic patients.
1. Make Sure Your Chiropractic Website is Found Online
With more than 1.5 billion websites on the internet, there is a vast amount of work you need to do to improve your website's visibility on search engine result pages and beat your competition. According to Google, the first five organic results receive nearly 70% of all clicks, so make sure your website ranks high. Some strategies you can use to achieve this goal and get more chiropractic patients include:
Ensuring your website is mobile-friendly
Creating original and authoritative blog posts regularly
Getting backlinks
Using different content formats, including audio and video content
Incorporating the right keywords in all your content
2. List Your Chiropractic Practice on Google My Business
Since more than 90% of internet searches are from Google, your Google listing is one of the most effective yet affordable local SEO tools. By listing your chiropractic business on Google My Business, you'll extend its reach across the location, allowing potential patients from within and outside your state to find you.
3. Give Out Referral Cards to Your Patients
According to the American Marketing Association, referral cards work best when also handing out free gifts. So instead of only handing cards to your patients, give a reward for every successful referral they make to both the referrer and the referee. For instance, you can offer free consultation services to the referred patients to encourage others to come. Just make sure you limit the number of referral cards and have an expiration date for every reward to lower your advertisement costs.
4. Run Targeted Email Marketing Campaigns
Targeted email marketing has proved to be an effective way to acquire new customers as marketers who use it record up to a 760% increase in profits. Before you run a targeted email marketing campaign, you need to identify your ideal audience to get the most out of your email campaign.
5. Create Facebook Ads for Your Chiropractic Practice
As of 2020, there are nearly 223 million active Facebook users in the U.S. and will continue to rise in the coming years. With virtually 86% of marketers in the U.S. using Facebook marketing, you can also make use of the platform by creating ads targeted to a specific audience based on their demographics, such as physical location, income, occupation, and age.
6. Engage Potential Chiropractic Patients on Instagram
Generally, converting potential customers into actual patients takes time because some may want to build a relationship with you before seeking your services. Instagram is one of the best platforms to engage with potential, current, and previous patients. Post regular updates and use Instagram marketing tools to generate more leads and grow your followers. With time, you will build a good relationship with your followers and acquire returning patients.
7. Make Your Chiropractic Website More User Friendly
Since more than 50% of the web traffic comes from mobile devices, your website needs to be accessible to both mobile and desktop users if you intend to reach a wider audience. By lowering your website's loading speed and enhancing the user interface to make your website easy to navigate, your visitors will spend more time on your website viewing your services and potentially converting.
8. Host Wellness Seminars
Seminars are perfect forums to not only educate the public about health and wellness, but to also market your chiropractic services. This is because the majority of the people interested in these seminars will likely fall within your target market segment. Hosting these wellness seminars will create an opportunity to acquire more patients and build relationships.
9. Use Print Advertising
advertising strategies even today. In fact, in 2020 alone, the cost of print ads amounts to more than $13 billion, as reported by Statista. Advertising your business in newspapers and magazines could be effective in attracting new patients within your area.
10. Have a Unique Selling Point for Your Practice
Currently, there are more than 70,000 chiropractors in the U.S. and an additional 2,500 entering the workforce annually. There are about 67,400 chiropractic businesses in the U.S., with each of them striving to occupy the most significant market share. To survive in the competitive market, you should have a unique selling proposition that sets your business apart and attract new patients. What makes your chiropractic different from the rest? Do you offer a special treatment? Make it known to prospective and current patients!
Use these tips to get more chiropractic patients. If you need more help and want the best chiropractic marketing services, contact GMR Web Team today.