How to Create a Successful Healthcare Business Plan for Your Medical Practice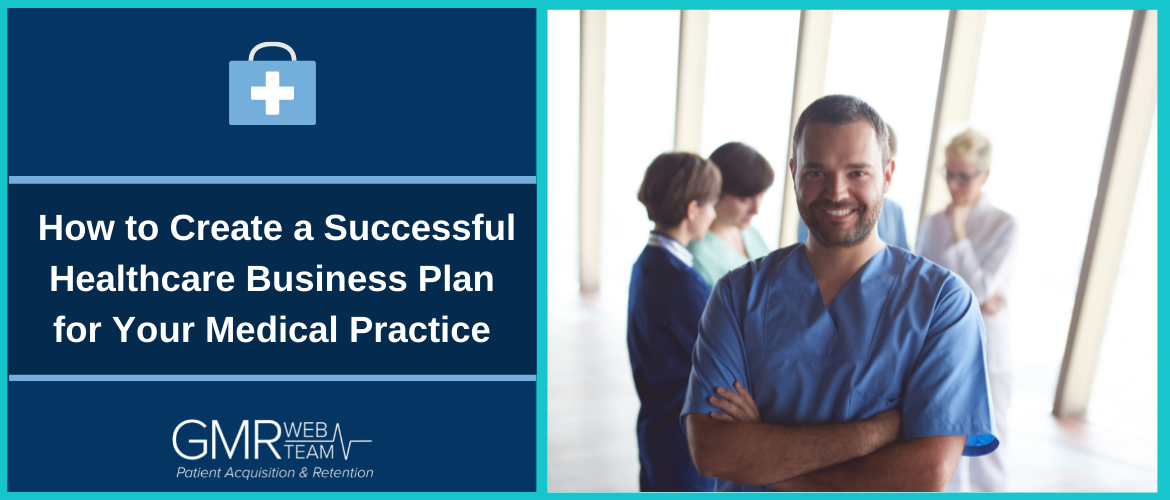 It is a common misconception that healthcare practices do not require marketing strategies in the same way that other companies and professions do. However, healthcare should be treated as a business and cater to consumers, or in this case, patients.
A successful business plan is essential for medical practices to attract new patients, retain current patients, and maintain a positive relationship with the community.
Without a business plan, practices may find themselves disorganized, lost, and unable to adapt to any changes in business, such as decreased visits or increased appointment cancellations.
Why is a Business Plan Necessary?
Creating a business plan for your healthcare practice means laying out where you are now and where you want to be in order to fill in strategic goals and benchmarks needed to track progress. Without a finished business plan to rely on, healthcare practices will not have any insight or idea of their returns.
Additionally, the attracting and retaining of patients will not be prioritized or managed. Opportunities for improvement may get overlooked, revenue may not increase, and patient trust may be lost.
How to Create a Healthcare Business Plan
Clearly, a business plan is non-negotiable for healthcare practices. But where do you start? What should you focus on?
Most practices that put together business plans rely on these basic guidelines to get a head start. Keep in mind that any of these parts can be adjusted or changed according to what makes the most sense for your healthcare practice.
#1: Identify Your Ideal Patient
Healthcare practices are essentially promoting services to an audience, or, patients. Start identifying and defining your target audience by assessing who uses your services. Marketing plans should be developed with this target audience in mind in order to be effective.
If you have a wide range of patients varying in age, gender, etc., consider segmenting them into different, smaller groups or learn about what each patient has in common outside of traditional demographics.
#2: Define Your Vision
Solidify your goals by defining them in the largest business plan. Brainstorm and write down goals, significant milestones, and where you see the practice in 3 years, 5 years, etc. Document how you will achieve these goals and set dates for major milestones.
#3: Assemble a Team
It takes a village to run a successful healthcare practice, from the front office staff to third-party contractors. Take this time to document who will be involved with this business plan and to what degree.
Outline roles, responsibilities, and initiatives for each team member. Make sure to tie this all in with your overall vision. For example, if you envision a significant effort in social media marketing within the next year, define the role(s) that will be responsible for this.
#4: Build Patient Personas
When other businesses create their business plans, they often run an exercise to build "buyer personas." These are essentially profiles that represent ideal customers, based on real data.
This exercise includes giving these personas creative and explanatory names, incomes, budgets, careers, and more, to help guide business and marketing decisions.
In healthcare, creating a patient persona works the same. Sit down with your team and create 1-2 profiles of your ideal patient. Give them a name, a medical condition or need, income, family status, personality attributes, etc. based on your actual patients. For example, a profile might look like this:
"Clever Cathy," has diabetes, age 65, works in customer service, researches her conditions thoroughly/has lots of questions for doctors, makes 55k per year, has $500 to spend on care today, divorced, 3 kids out of the house.
Having these profiles on hand can help pull focus to your patient's needs during important business decisions.
#5: Perform a SWOT Analysis
Another tool to use for self-assessing your healthcare practice is a SWOT analysis. SWOT stands for Strengths, Weaknesses, Opportunities, and Threats. Draw a 2x2 grid labeled with these terms, and start listing examples.
When assessing your healthcare practice's strengths and weaknesses, consider everything from an internal perspective and what you have control over, such as unique services (strength) and only having one provider (weakness).
Writing out your practice's weaknesses helps you to place all of your thoughts for improvement in one clean list. Keep it strictly about what you have direct control over, such as long wait times or outdated appointment booking systems.
Opportunities and threats are both meant to be viewed from an external lens and are things you do not have control over but can either leverage (opportunities) or maneuver away from (threats). Opportunities can include things like new real estate in a better location, while threats can include things like loss of staff.
#6: Finalize and Share
Once you have a full business plan solidified, finalize it and share it with all physicians, staff, board members, executives, and any other stakeholders necessary.
Once everybody is on board, you can begin the rollout, enjoying the support from every team member along the way.
#7: Check-in and Evaluate
Sometimes, a plan that we thought would surely bring in 100 new patients falls flat. That's why it is important to establish a plan to check-in with your goals, benchmarks, targets, plans, etc. to see what is working, and more importantly-- what's not.
Adjust and change your plan as needed, making sure everybody is still in the loop. By measuring and evaluating your business plan consistently, your chances of success improve.
Don't Forget "The 3 Pillars of a Successful Healthcare Practice"
While assembling your new business plan, let's not forget the 3 pillars of a successful healthcare practice: a growing patient base, a stellar online reputation, and a strong online presence.
Keeping these pillars in mind for a detailed business plan, healthcare practices can increase patient acquisition and retention. Make sure to integrate these pillars into your marketing plan!
Conclusion
To conclude, healthcare practices must have a business plan in order to be successful and to keep growing. These plans, as you've seen, can get large and sometimes complicated.
For busy practices, hiring a marketing agency to help handle this plan is a must. It's important to find a healthcare marketing agency that believes in your business plan. This keeps everybody aligned so your practice can see success.