Healthcare Marketing & Physician Strategies Summit: Innovate, Inspire, Transform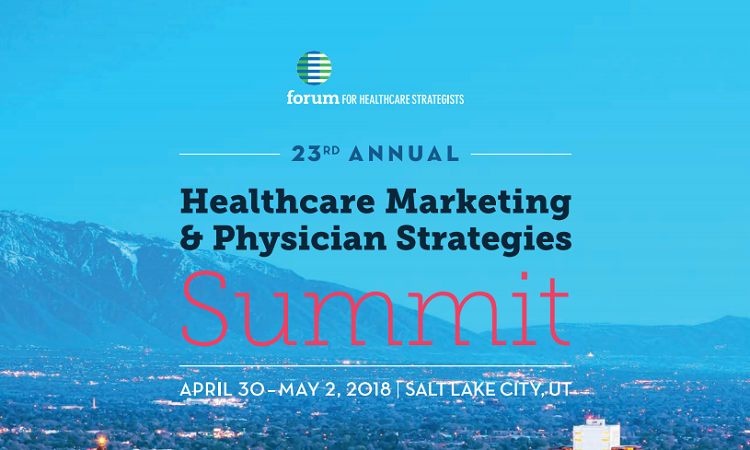 Stay up-to-date with the latest healthcare marketing trends, identify the opportunities and learn how to tackle healthcare marketing challenges by attending the 23rd Healthcare Marketing & Physician Strategies Summit presented by The Forum for Healthcare Strategists. This summit will be held at The Grand America Hotel, Salt Lake City, UT from April 30-May 2, 2018. In this summit, senior-level marketing, digital, strategy, and physician relations executives from various healthcare organizations nationwide will share strategies and solutions to solve healthcare marketing and physician relationship challenges. The summit will explore the latest business models, technologies, trends and the transformation that marketers, physician relations executives and strategists are experiencing.
Who Should Attend
The summit is specially designed for the following people and executives from healthcare organizations, hospitals, medical centers, health systems, medical networks and groups:
Chief Marketing Officers
Marketing Communication Executives
Chief Strategy Officers/Senior Strategists
Business Development/Planning Executives
Physician Relations & Sales Executives
Digital/Social Media Strategists
Advertising Executives
Physician Referral/Outreach, PR and CRM Directors
Consultants
Why You Should Attend
The Healthcare Marketing & Physician Strategies Summit is considered the event of the year where you can connect with your colleagues from two important functions in healthcare organizations- marketing and physician relations. You will be able to interact with top decision makers and leaders from various healthcare organizations who are responsible for making strategies, guiding marketing, communications, business development, sales, digital efforts and physician relations. At the summit, you will get the winning strategies and case studies from various healthcare organizations that will allow you to:
Examine the evolving role and importance of healthcare marketing and physician relations
Explore the data and tools required to assess, track and improve marketing and physician relations strategies
Understand the marketer's role as communicator
Identify innovative and proven approaches for improving patient engagement, acquisition, retention and advancing digital and mobile strategy.
Summit Agenda
The summit agenda features three keynote speakers and over 100 concurrent session speakers from leading healthcare organizations. Summit keynotes include:
The Internet to the Inner-Net: How to Reset Your Connection & Live a Conscious Life by Gopi Kallayil on Monday, April 30 | 4:00–5:15p


Be the Brand. Live the Brand. Why Stories are Your Most Powerful Brand Building Tool by Ron Tite on Tuesday, May 1 | 8:00–9:15a


Marketing to People Not Like You: The New Market Segmentation by Kelly McDonald on Wednesday, May 2 | 8:00–9:15a
Event Registration and Details
Be a part of the premier learning and networking experience by registering online at www.healthcarestrategy.com or filling the registration form. Early rates are available if your registration form with full payment is received by February 16, 2018. Discount for group registrations (2 or more) is also available. Join innovators and thought leaders and examine the possibilities for your healthcare practice!