Healthcare Marketing: Trends and Challenges of Present Times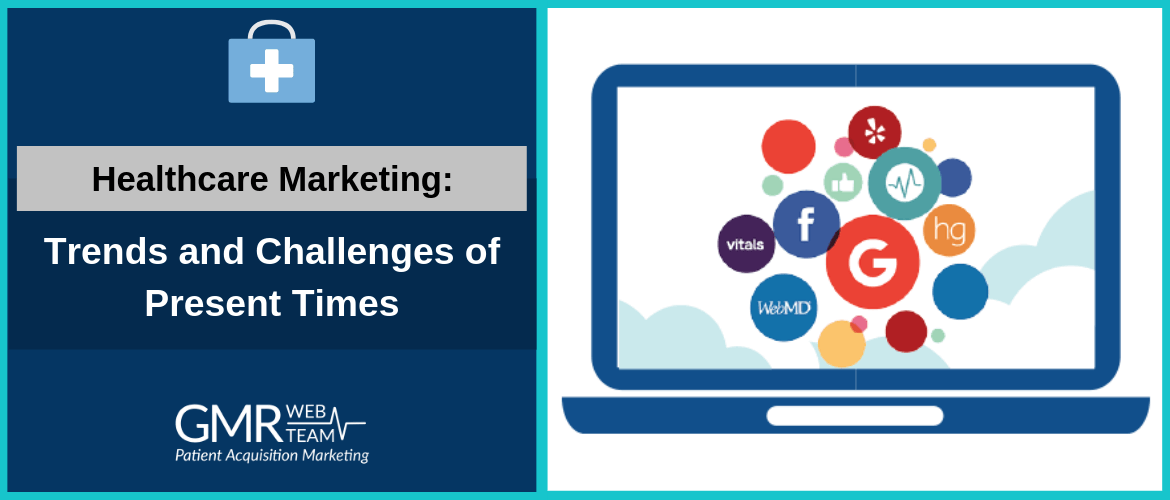 The modern healthcare marketing concept integrates the traditional marketing tactics with online marketing methods for matching up to the growing expectations of the informed, aware, and tech-savvy patients. The success of this marketing strategy depends on an enhanced patient experience through increased communication, engagement, and interaction. Health consumers are the most challenging consumers to deal with. Because the service or the product has to do with curing their body and minimizing their sufferings, it's difficult for healthcare service providers to convince their consumers (patients) regarding their treatment (its procedure), and meet their expectations. The ever changing landscape of the healthcare industry coupled with a well-informed group of patients, as a result of the infusion of value-based (fee for value) reimbursement structure into healthcare, only makes it tougher for providers to be able to stand out from the competition. However, in the midst of all that, we've found a way to connect, engage, and interact with our patients in a more fulfilling manner: the doctor-marketer collaborative approach of marketing. Providers are now partnering with healthcare marketing professionals to develop a marketing strategy that takes care of the ever-growing expectations of patients. Their goal is to improve patient experience throughout a patient's journey of finding and receiving care. However, healthcare marketers also have to deal with challenges of continuously evolving marketing trends and challenges. One of those challenges is to keep up with the latest trends in industry shifts regarding costs, laws, and marketing platforms for healthcare. Another major challenge is to stay one-step ahead of the educated, smart, and empowered class of consumers/patients. The continuously updating trends in technology and its use only diversify the role of healthcare marketers in healthcare delivery models. Challenges that today's healthcare marketers need to tackle:
Overburdening costs:

In US, healthcare spending per person reached $10,348 in 2016. The burden of higher expenses is being transferred upon the consumers' shoulders through increased premiums, high deductibles and co-pays. Higher deductible insurance plans (HDHPs) are soon going to cover almost half of all employer-based coverage and most of the individual plans is a proof. As patients are feeling more financial pressure, they are starting to look out for options out of their insurance network. Patients going out of insurance network for finding doctors is an opportunity for healthcare marketers to catch their attention. However, this isn't going to be that easy as competition is very high. In addition, patients want full value of money from service. They do full research like reading reviews, comments, checking prices, and comparing them. Only smart marketers who can come up with relevant, useful, and reliable content and the support tools for helping patients in their decision making can come out as winners.

Hospitals getting into insurance business:

Hospitals having been under immense pressure to accept flat-rate payments for care instead of reimbursements for every service, are taking up the role of insurers themselves. They focus this move towards taking control of the complete patient life cycle. According to a survey conducted last year among the top 100 hospitals leaders by the Advisory Board Company, a research firm, 20% of hospital networks market an insurance product and another 20% are exploring doing so. "This trend is definitely picking up steam across the country," according to Chas Roades, the firm's chief research officer. Healthcare marketers will need to change the way they used to look at their target users; from just patients to patients plus insurance members. That's because marketing for insurance members is different from marketing for patients; each takes a very different path of brand building, content marketing, and enhancing customer service experiences. The core challenges will be regarding service line marketing, physician engagement, and community-based branding.

Partnering with patients for care:

In this modern age society, patients want to be investors in their healthcare. They have knowledge about everything; their health condition, different treatment options, competitors' profiles, etc., and so they just don't want to do what doctors suggest. Rather, they want to partner with their providers to achieve the best health condition in return of every penny they spend. Hospitals getting into business of insurance for managing costs and ensuring the quality of care is a result of this. With healthcare becoming only costlier, this partnering trend will rise even more. For healthcare marketers, it's more than knowing about the problems. It's about knowing exactly what patients want, what truly matters to them, and why do they do what they do. They will need to devise a marketing strategy and build content that can affect behavior change in patients; that can inspire them to come out of their health inertia and take actions to always stay on top of their health. This kind of marketing will go a long way in keeping that patient-provider (partnering) relationship strong and long lasting.

Digital disruption to reputation:

Patients have moved ahead of referrals from relatives to looking out on the web to hear from a large base of patient population. According to Software Advice, 72% of patients are already using reviews as their first step in finding a doctor, and 82% of them are using them to evaluate physicians. The disruption to reputation caused by the internet is making patients more picky and specific about their expectations. Review websites, like Yelp forbidding doctors from review solicitation and happy patients, is posing a threat of reviews naturally shifting towards negative bias (as angry patients tend to be more vocal than happy patients about sharing their experience). Healthcare marketers' challenge is to help the providers penetrate through the patients' community online to acquire the center stage and dominate it with their presence. Their tools should be helpful, unique, and attractive content and provider-to-patient dialogues. They can create branded content like explainer videos, live videos, blog posts, etc., or, encourage and facilitate users (patients) in generating the flow of positive content (reviews and testimonials) on different review websites, and social media sites.

Investment in technological advancements:

Healthcare institutions are increasingly spending huge amounts on technological advancements in streamlining, in digitally connecting and empowering patients, and in improving remote health monitoring. Over the last six years, there has been $18 billion invested in healthcare technologies, with 2017 been the largest year ever for digital health funding. Spending in healthcare digitalization, online reputation, wearable devices, etc., are the examples. All of this benefits both: patients, by improving the overall patient experience; as well as providers, by minimizing operation costs and improving returns on investments. Advancements in technology and their applications in healthcare are a reality. What healthcare marketers need to do is to find ways to integrate their marketing processes with new technological improvements. This way, they can streamline the healthcare services with the marketing processes and deliverables to achieve both: the best-in-class patient experience and improved ROI.
For both, providers and healthcare marketers, it's essential to keep an eye on all these trends and keep revising their healthcare marketing strategies and goals to stay on top of the competition.