5 Best Healthcare Digital Marketing Practices That Assure Success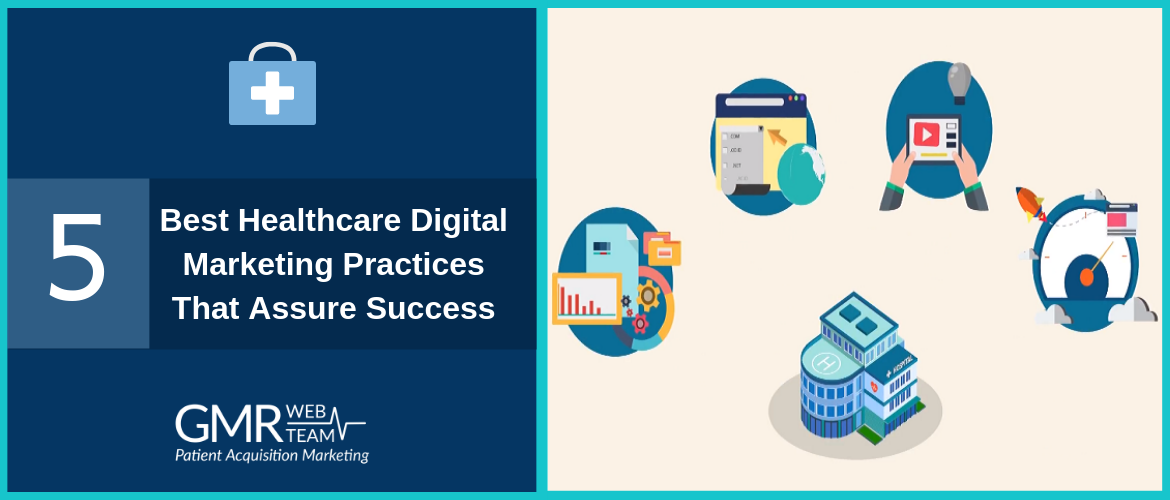 Present healthcare consumers are much different than the healthcare consumers of the past. Today, patients are doing extensive research online, which means they are more particular about the services they receive. This has increased the need for a tactful healthcare digital marketing strategy to help medical practices and organizations find their customers via digital and social media to generate more business online.
With about 47 percent of internet users searching online for information on treatment options and about healthcare providers as stated by Pew Research. It's time that healthcare providers take optimal advantage of digital marketing to boost patient acquisition, patient engagement and, ultimately, care outcomes. Therefore, let's look at how adopting digital tactics for healthcare marketing is defining success for healthcare practices in the present time.
Defining Success with Healthcare Digital Marketing
Website Optimization for Local Searches

As already mentioned it has become crucial for healthcare marketers to optimize their digital presence. Why? Because the Think with Google Study states that search engines drive three times as many visitors to hospital websites than any other source. The study also found that 44 percent of patients who research hospitals on a mobile device end up scheduling an appointment. Local convenience is the key, as according to Google Trends "near me" searches for health-related services have doubled since 2015.

For this, healthcare marketers should help search engines recognize and rank their content by tagging a page with relevant keywords (you need to look for what keywords are currently driving traffic to your website, as well as to your competitors), writing informative page descriptions, and creating strategic HTML titles, among other techniques.

The healthcare providers also need to showcase their essentials, i.e. be clear about available treatments and the services you offer in your online business listing. Also, include up-to-date business hours, a phone number, and a street address to lay the groundwork for search engines to place your pages front and center when a relevant consumer searches for a pertinent health topic in your location. After all, people don't want to travel too far for treatment, especially in an emergency.




Rich Content Based on Patient Driven Data

Earning the audience's attention with great content can capture more prospective patients and produce better results for your healthcare business. How do you do that? In healthcare marketing, you have to be observant, you need to analyze patient-driven data to fuel your content strategy. Moreover, use sentiment analysis tools and patients' feedback management platforms to find out what exactly your patients' experiences are, and what you can do to increase patient loyalty.

You can also use an automated patient satisfaction survey software, like RepuGen, to asses you and your team's performance as well as to identify and categorize trends in feelings and emotions of your patients at large. Then generate content and case studies that educate and answer the questions that patients are searching for.




Capturing Local Prospects Using Social Media

A report by the Health Research Institute (HRI) at PricewaterhouseCoopers (PwC) US reveals that social media tools influence 41 percent of consumers' choice of a specific hospital, medical facility or doctor, and has become a valuable business development tool in healthcare marketing.

Insights from social media offer immediate feedback on products or services along with new ideas for innovation that could lead to quality care outcomes, more loyal customers, efficiency and even revenue growth. Hence, healthcare providers should effectively use social media to improve patient communication. What's more, healthcare providers can also use social media networks to collaborate, share knowledge, and work together – thus potentially improving care outcomes for the local communities.




Proactive Online Reputation Management

Too many negative reviews can drive away potential patients. Why? Because when it comes to healthcare digital marketing, almost 72 percent of patients use online reviews as their first step in finding a new doctor, and 88 percent trust online reviews as much as a personal recommendation. What's more, as much as 48 percent of patients would go out of their insurance network for a doctor with great reviews because they are willing to overlook important factors, such as cost and convenience, in favor of positive online reviews.

Being a healthcare provider, you should play a proactive role to get more (great) reviews. Just ask for reviews, or use a program like Review Us Now that aggregates reviews as well as sends emails requesting your patients to leave reviews for the services they have received. However, once you get reviews (be it positive or negative) from your patients, don't just sit on them, as 65 percent of patients feel that it's essential for doctors to respond to online reviews.
Source: Software Advice

Last but not the least, do remember that reviews whether positive, negative or fake can't be deleted by the company once they have been posted on review platforms like Yelp, HealthGrades, Vitals, RateMDs, etc. In order to build a stellar online reputation, healthcare providers need an online reputation management tool, which helps them to solicit genuine positive reviews from patients that adds to their reputation and improves their search rankings.




Optimizing ROI by Regular Data Tracking

For healthcare providers, it is critical to understand what marketing activities will work for them, what needs to be optimized, and how to use marketing budgets efficiently for the best possible results. With healthcare digital marketing, it has become possible to track and attribute results of specific campaigns and outreach efforts of your practice, which was not there with offline marketing.

Make sure that your digital marketing strategy has a plan in place for managing your data that reflects your ROI metrics in terms of cost per lead (CPL), patient acquisition, admission rates, patient retention rate, patient engagement, and referrals. Build your digital marketing campaigns using this data and alter campaigns in real-time if they are not producing the best results.

You can also use various digital marketing platforms and call tracking software to analyze patient data and to generate reports that highlight your marketing campaign results. This way, you'll not only be able to track your specific campaigns but will also find out how they are contributing to the clinical and financial success of your practice.
Healthcare digital marketing is evolving steadily and has hugely changed the way healthcare marketers operate. To improve your patient engagement and loyalty, call us at 800-523-7187 or fill the form below.