Healthcare Consumerism: How Digital Marketing Can Help You Adapt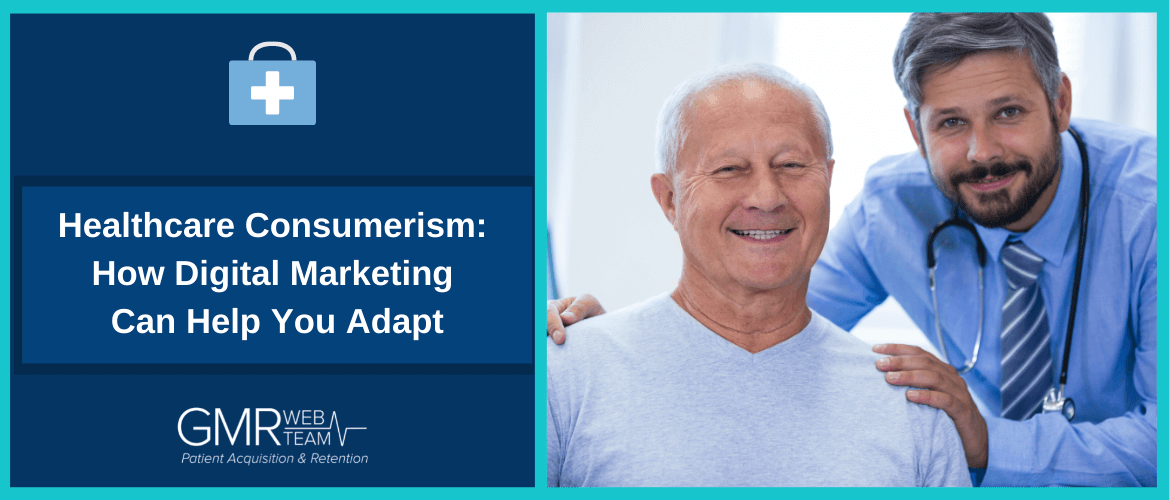 Like any other industry, consumerism has affected the healthcare sector as well. Health consumerism is a concept that enables patients to make an informed decision based on all the information, figures, and facts that are available to them.
Healthcare is now seen like any other product, and the prospective patient is now assigned the role of a buyer and presented with a plethora of options. The choice is now with the patients to make their decision based on cost-effectiveness and other incentives.
Primary Causes of Healthcare Consumerism
More and more patients are opting out of the traditional healthcare route whereby they just visit any nearby doctor's clinic when they are sick. Here's why:
#1: The advent of new technologies.
Nowadays, all one needs is a smartphone to get access to thousands of healthcare-related information available on the internet. With access to this vast pool of data, patients. are now looking for solutions that guarantee better experiences, competitive costs, and improved communication.
#2: Transparency of medical costs.
The healthcare costs are much transparent now, and hospitals and healthcare institutions are more open with the prices of their services. It helps the patient decide on the best possible option for their treatment. Patients want to know how much and what they are paying for.
#3: Virtual medical consultations.
The growth of virtual medical consultations allows patients to receive healthcare consultation, get tested, and receive reports all from the comforts of their homes. It allows them to choose practices and providers that would typically be outside of their local area.
How Does It Impact Your Healthcare Practice?
Patients are now expecting more from their healthcare experience. They are doing more research than ever before and demand a high level of service from their doctors. Exceptional care isn't the only thing they look for.
People research all their options: With websites like Healthline and WebMD, the patients are already aware of their disease and symptoms. If they feel that you cannot provide them with the right treatment, they will quickly move on.

Medical expenses are a priority: Most patients search whether a hospital or practice accepts their current insurance plans. If the services exceed their budget, the patients now have plenty of other options.

Your practice needs to be easily reached: Does it allow the patient to get directly in touch with the healthcare provider? Can the patient cancel and re-schedule appointments easily? Patients consider these factors for evaluating healthcare providers.

Patients read reviews before deciding on a healthcare practice: Nowadays, people don't just walk into any clinic. They read online reviews about the healthcare provider before finally deciding who they want to trust with their health.
How Digital Marketing Helps Healthcare Providers Adapt to the Growing Consumerism
Digital marketing expands the healthcare provider's reach. Today, if you aren't present online, you are as good as non-existent because patients wouldn't find you.

Digital marketing can help with your brand building. As with any other business, patients opt for practices that have a stellar reputation. A strong brand helps you put your best foot forward.

Add a personal touch to your marketing efforts. Make it easy for patients to reach out to you. Allow the patient options to connect directly with their physicians. It helps build trust.

Use email marketing to get in touch with patients, conduct follow-up surveys. The survey responses can help improve the patient experience and give insight into what you need to do to retain more patients.
With patients turning to the internet for their healthcare needs, digital marketing helps to keep your practice growing by adapting various online marketing strategies.
At GMR Web Team, we provide you with comprehensive digital marketing strategies that your healthcare practice needs to flourish online. Our three pillars strategy, as mentioned below, ensures a patient-focused approach while ensuring success for your healthcare practice.
A satisfied and loyal patient base:
Your patient satisfaction is your utmost priority, and it's incredibly important to us. Your success partly relies on the quality of service you provide, along with other aspects such as the ease of booking appointments and doctor-patient interactions. Higher satisfaction results in loyal patients that are easy to retain.
A stellar online reputation:
While choosing your service, prospective patients take into account the reviews left by previous patients. Hence, it is necessary to maintain a good reputation on all medical or social media sites. Poor reviews result in fewer inquiries to your practice—after all, who wants to visit a poorly reviewed provider? Our agency helps you generate more online reviews, so it reflects the true level of patient satisfaction.
Robust Internet Presence:
It involves improving the ranking of your healthcare practice on search engine results to ensure you are being found online. We also create social media strategies to interact with patients, connect with new ones, engage in content marketing strategies to build a reputation and make people aware of your services.
To build and manage your online presence, and expand your business, get in touch with us today.