How to Get More Patient Referrals for Your Dental Practice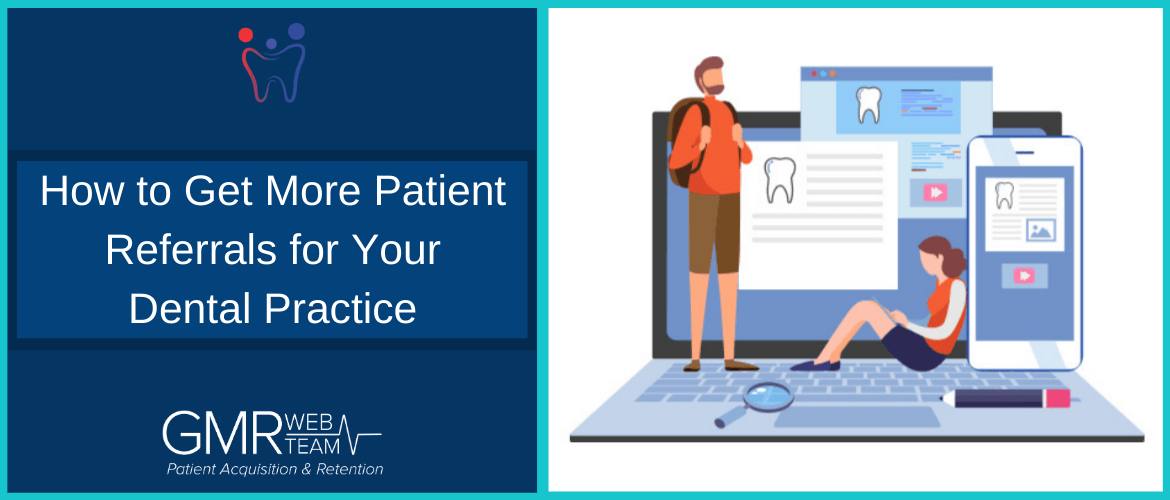 Referrals are extremely important when it comes to the growth of your dental practice. Data from a "Trust in Advertising" survey found that 83% of respondents trust the opinions of those close to them, and 66% trust online opinions. These are huge pools of new patients that your dental practice can take advantage of.
If you are unsure of where to start, here are some tips on how to increase dental patient referrals:
1. Highlight What Makes Your Practice Different
While you may know your practice's unique value propositions, others might not. People need to have an idea of your services and why they should recommend your dental practice to their friends and family.
That means you need to market your business in a way that highlights your unique services and offers. This could mean special treatments such as laser dentistry, IV sedation, or new patient specials.
2. Create Discounts and Offers
Offering discounts and patient specials for dental patient referrals is a great way to incentivize your patients to recommend your practice to others. These incentives can help increase the likelihood that patients will recommend you to family and friends.
For example, you can offer discounts off teeth whitening for your patient and any friend or family member they refer to. You can also give a new electronic toothbrush to patients who refer a friend or family member to your practice. Gift cards are also an excellent option for referral prizes.
3. Social Media Referral Contests
Facebook, Instagram, and Twitter are great platforms for referral contests. Set up a contest on your social media platform that encourages your followers to share a referral page where their friends and family can schedule their first appointments. Be sure to let your patients know what prize you are offering!
4. Leverage Email Marketing to Connect with Patients
Emails still play a significant role in people's everyday lives, and it is an underused tool for reaching out to patients. People check their emails for important information. Send out enticing emails that provide quality and relevant information. This will increase the chances that they will refer you to someone that requires your dental services. Also, send out birthday cards and holiday cards to keep your practice top of mind and show your patients that you care!
5. Build a Larger Business Network
Building a positive relationship with other practices in the dental industry is another great way to build your pool of dental patient referrals. For example, if you are an oral surgeon, network and build relationships with general dentists to gain more referrals.
One way to do this is to create email campaigns to put yourself in front of these dentists to jumpstart the relationship. Join LinkedIn groups and dental organizations to meet other dentists in your area.
6. Participate in Local Networking Events
Taking part in your local community's chamber of commerce networking events will give you the opportunity to network with other businesses and start relationships. The more you are able to get out into the field and show your face to other businesses, the more credible you become. Once you build a trusting relationship with people at these networking events, they will either refer your dental services to their friends and family members or even become patients themselves.
7. Host a Fun Social Event at Your Dental Practice
Hosting a social event at your dental practice will show other businesses in the same building fun and strategic method to increase your dental patient referrals. During the event, get to know others and start setting a foundation for a positive relationship.
Networking with other businesses in your building and community could lead them to refer your dental practice to their loved ones. Also, tell others about your referral program and the incentives you offer for those referrals.
8. Ask Your Long-Standing Patients for Referrals
This strategy might seem a little scary at first, but that is because not many people do it. Patients that you have cultivated a positive relationship with for an extended period of time are the perfect candidates to ask for dental patient referrals. These patients are the ones that know your personality, your practice's services and can share the best things about your practice with family and friends.
9. Have a Strong Online Presence
You will find that many prospective patients will be searching for you online. Even with recommendations from friends and family, patients will still look you up online before booking an appointment. Ensure that your website is secure and easy to use. Make it easy for patients to call you with a tap-to-call button and an easy way to schedule appointments. Make sure your online reputation is top-notch. Are your reviews recent, and is your star rating high? These factor into booking your first appointment.
10. Hire a Specialized Dental Marketing Agency
If you do not have the time to spend on marketing your practice, and increasing your dental patient referrals, hiring a specialized dental marketing agency is a great investment. Not only does it allow you to fully focus on your patients, but it also gives you peace of mind that marketing professionals are the ones in charge of attracting new patients. Your agency will create a strategy to increase patient acquisition and increase referrals.
Being able to grow your patient base is a key aspect that needs to be addressed if you want to grow your dental practice. The 10 tips above are a great place to start when it comes to increasing the number of patient referrals for your practice.