Expert Advice on How to Retain Dental Patients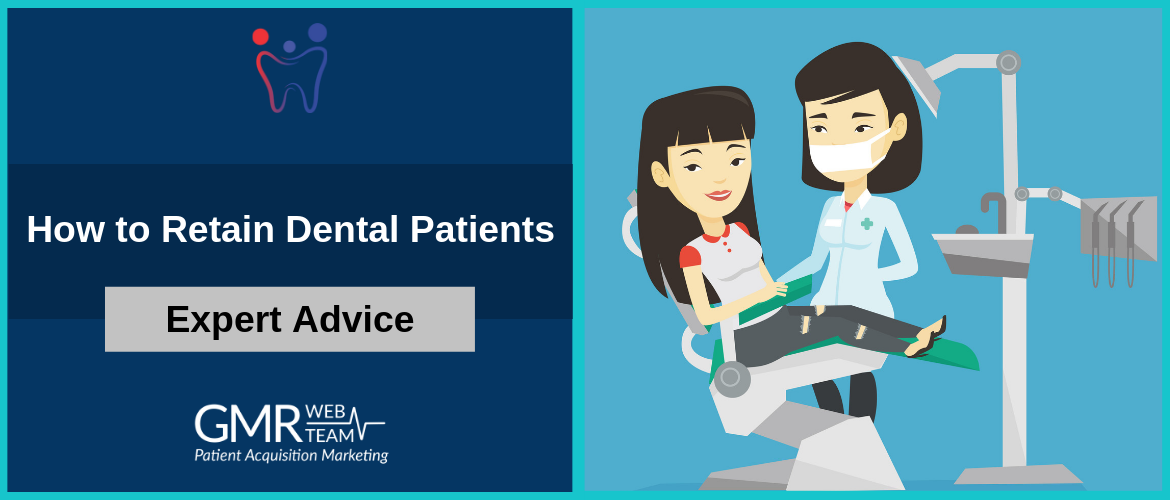 According to data from the American Dental Association, the number of dental practices in the country are steadily increasing. This is great news for dental patients, but not so much for dentists who are already dealing with stiff competition in the industry. As a dentist, you need to go out of your way to market your practice to survive in the increasingly competitive industry.
Here are seven dental marketing strategies you can implement to increase your patient retention rates.
1. Have a Reactivation Plan for Previous Patients
Retaining patients who are already part of your practice is more important than ever. Having a reactivation plan for patients you saw in the last few months can help improve your retention rate. An analysis by Virginia Commonwealth University School of Dentistry stated that dentists lose about 36% of patients due to no response to communication efforts, and it was the most common reason for non-retention. You can try to retain patients by:
Encouraging them to make follow-up appointments before they leave
Having a follow-up plan for patients who leave without making an appointment
Surprising your patients with gifts such as breath mints printed with your name and logo
2. Stand Out with Excellent Customer Service
Give patients a wonderful experience in every interaction they have with your practice. This may mean the difference between them coming back or not. Your front office team is especially crucial when it comes to cultivating long-lasting relationships and increasing patient satisfaction. Thus, ensure they have good customer service skills. Every staff at your practice should offer a memorable experience to current and prospective patients. Here are a few tips to improve the customer experience:
Greet your customers with a smile and a firm handshake
Encourage employees to refer to patients by their name
Ensure that patients are comfortable and the staff cares for them
3. Keep in Touch with Patients
Regular communication with patients helps to build trust. You can communicate with customers using different channels to keep them up to date with your practice's developments. A unique way to keep in touch with your patients is to recognize their birthdays or their children's achievements by sending a simple message or card. Also, thank your patients for their referrals and for their loyalty to your dental practice.
Related Blog: Email Marketing for Dentists: How It Helps Grow Your Practice
4. Love Your 'Bad' Patients
Some patients will easily accept your recommendations. They'll happily come for aftercare appointments and even refer others to your practice. These customers are easy to love. However, there are other patients who don't seem to value your dentistry advice. These are the ones who miss appointments and have neglected dental hygiene. These patients are the ones who can benefit the most from your services. While it's hard to love such patients, helping them change their mindset can make them loyal to your practice. By showing interest in these patients, and their lifestyle as you can make a big difference in their lives.
5. Value Your Patients' Time
Valuing your patient's time makes them feel that they are important to you. This starts with how you handle your patients call. There should be someone to answer the phone rather than a voicemail. In addition, when you have appointments with patients, don't keep them waiting. As mentioned by the American Journal of Managed Care, long wait times not only affect overall patient satisfaction, but also the patients' confidence in the care provider. Here are other ways of valuing your patients' time:
Don't overbook patients
Remind your patients of their appointments a day prior to the visit
Look into your schedule daily to note any adjustments that you need to make
6. Refine the Small Details
Details such as the cleanliness of your practice or the positive attitude from your employees can set you apart from your competition. For instance, if you have cluttered counters or dirty baseboards, your patients may wonder if your other dental equipment is clean. Therefore, take care of the small details. Ensure the waiting room is comfortable and offer water to the patients while they wait. You can also have a play area to keep the children happy. These small details will make your patients feel welcome and special.
7. A User-Friendly, Informational Website
Last but not least, make sure that your website is easy to navigate and all the landing pages have sufficient information and a call to action. This will make it easier for patients to find information regarding your services and book appointments.
Follow the above dental marketing strategies to create a pleasant experience for your patients, and to keep them coming back and refer others to your practice.