5 Tips to Secure Your Ecommerce Site Before Christmas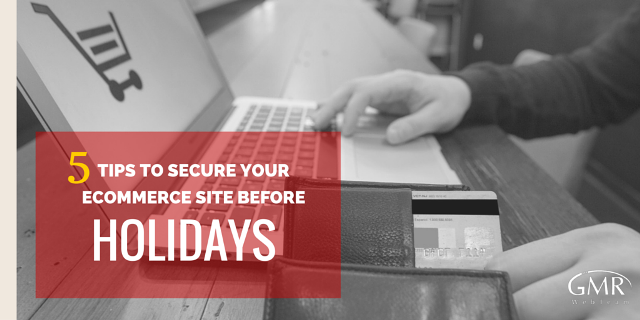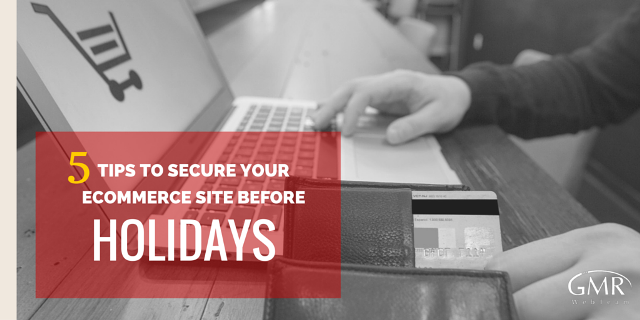 As much as Christmas is a time for joy and sharing, it also inspires ecommerce fraud. Hackers prey on online Christmas shoppers since there are increased transactions and more chances to steal identity. Luckily, there are ways for retailers to prepare and prevent this problem from disrupting your holiday season.
Here are five keys to consider to make sure your ecommerce site is secure.
1. Be Careful Making Mobile Transactions
Each year smart phones account for more transactions than the year before. Hackers who have access to special software can collect card numbers and then use them anonymously. It's possible for them to steal your information through a Wi-Fi network without your knowledge. The Threat Metrix network predicts that during the 2015 holiday season, 50 percent of all transactions will be through smart phones, up from 39 percent last year. Retailers need to anticipate cyber crime by developing strategies that separate authentic purchases from suspicious activity.
2. Check Your Existing Customers
Ask yourself how familiar you are with the individuals in your customer data base. Check for any reports of outdated billing addresses, dead email accounts or discontinued phone numbers. Pay attention to customers who use several different devices to make purchases.
By using a digital identity network, you can bring all relevant data about your customers to one location so that each profile is easy to review. This aggregation will give you access to all available contact information and give you the ability to authenticate users in real time. Exchanging ideas with other retailers across a digital identity network can enhance global intelligence that reduces ecommerce fraud.
3. Review Irregularities from Last Christmas
Last year marked an increase in ecommerce sales, which potentially led to more instances of ecommerce fraud for some retailers. Review your reports from last season to pinpoint credit cards that presented transaction problems. Make sure these card numbers are flagged by your system. Ask yourself how well last year's fraud prevention strategies worked. Check to see if you had any ecommerce fraud encounters with the Heartbleed Bug, which created OpenSSL vulnerabilities on some servers.
4. Create a Customized Holiday Strategy
Devise a system so that you can be alerted in real time when you deal with a customer with a suspicious history. Since it's a busy time of year, you need a system that provides a step by step plan of action whenever you encounter suspicious alerts. Remember that you want to minimize the time you spend on fraud issues and focus more on satisfying legitimate customers. The last thing you want to do is mistake good customers for bad ones by putting them through an embarrassing investigative process that should not have to happen.
Dedicated hosting is a much stronger policy than sharing hosting environments with other businesses. Be aware of your encryption level and whether or not it needs an upgrade. Keep in mind that the most common forms of ecommerce fraud involve SQL injection and cross-site scripting. These attacks potentially give hackers access to passwords and sensitive information. Review recent bugs that have been reported by the business community and be aware of the fixes for these vulnerabilities, if necessary.
5. Tighten Your Security
The final months of the year are the best time to double-check your security, before the mad rush of Christmas shopping arrives. The earlier you can upgrade policies, the better. It's a time to study the various security software available and consider improving the quality of your security. Password management firm Dashlane Inc., inspected the password policies of big ecommerce companies and found out that 80% of the sites didn't meet the basic security requirements.
An important measure to adopt is to avoid storing confidential customer information on your servers. If customer information gets in the wrong hands, it can lead to huge fees, fines and damages, especially for large corporations.
Customer privacy should be treated as a top priority to maintain your customer loyalty. By now consumers expect both big and small companies to have a handle on security so that they don't suffer the same type of unexpected massive breaches of the past. Failing to limit data access was one of the biggest mistakes of the past, which could have been easily prevented through data monitoring and effective encryption.
Constant monitoring of your network is essential to know how well your data is protected. Training your IT team about data risks is another high priority that can limit vulnerabilities, as is avoiding the use of removable media. Running a regular scan on your site can detect SQL vulnerabilities and malware. Remember that common off-the-shelf (COTS) software or open source tools always need to be used with caution.
To Conclude
Christmas is close, and it is the time when you review your security policies to make sure that your customers feel safe while shopping online. Incorporate these 5 tips to prevent ecommerce fraud and make it a better place to shop during Christmas.
More Reads from the Blog