Doctor Referral Marketing: How to Get Referrals from Doctors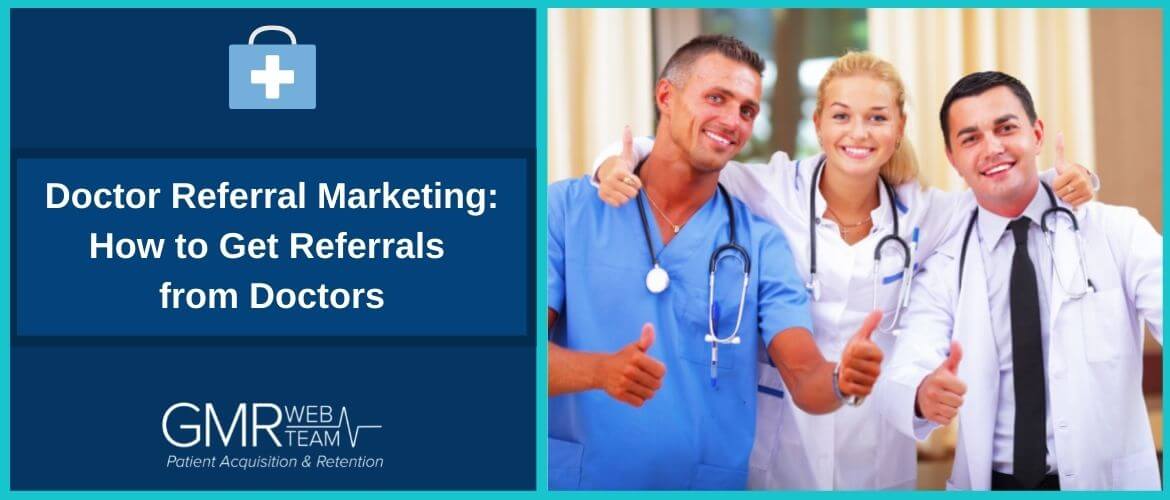 Building relationships with other healthcare providers in your community is essential to any thriving practice. By providing patients with your own trusted network of referrals, and with other doctors referring patients to your practice, you are ensuring that they receive the best care possible throughout their whole journey, in and beyond your office.
We know that connection and networking are important. But what is the best way for doctors to connect with other professionals for the sake of referrals?
How to Get More Referrals from Doctors
There are several different ways to make strong connections and set yourself up to give and receive referrals to and from other healthcare professionals in your community.
#1: Be Proactive with Introducing Yourself!
Whether you are the new practice in town or somebody new moves in, try to be the first to initiate a welcome visit. If you're new, introduce yourself to the established practices in your area. Come prepared with an introduction about who you are, what you do, and where you're located.
If a new provider moves into your community, greet them and welcome them to the area. Be prepared with any friendly advice or information they may find useful as the new practice on the block.
#2: Personal Touches
With technology and instant messaging, reaching out to other practices is easier than ever. However, personal touches and face-to-face time can pay off tenfold when building your network of referring physicians. Consider asking other healthcare professionals out for a meal or a night of entertainment in town.
If in-person entertaining is not quite your style, you can choose another gesture along the same lines, such as sending food or gifts for practice staff with a personal, handwritten note. Gifts should be appropriate and follow any rules in place. Try to be unique and memorable. While chocolates and candy are enjoyed by most, it is a common gift that can easily go unnoticed.
#3: Simple Contact Process
Once you are introduced to other practices in your area, keep the rapport going by having simple and clear contact processes.
Make sure you are leaving other healthcare professionals with your business card, a direct line, an active email address, your website, and whatever else you think is important for your referral network to have about you. Consider having special business cards made specifically for referrals. This not only makes it easy for other professionals to contact you, but also shows that you are serious about building a robust referral network and are putting in the effort to do so.
#4: Referral Liaison
Chances are, your competitor has a staff member with dedication to referrals. Without someone who specializes in referrals, your network can quickly become messy and ineffective.
Choose a staff member who will have the duty to follow up on referring doctors and handle any day-to-day operations. This staff member will act as an ambassador for your practice, so choose wisely!
#5: Keeping in Contact
After the initial connection is established and you begin a symbiotic relationship with other practices, it's important to keep the connection alive. This is where the referral liaison can come into play, to conduct consistent check-ins as well as continue nurturing the relationship with holiday gifts, and special messages.
It is also important to keep in contact about your patients. A simple email or phone call to the referring doctor to update them on a patient's status can bridge communication gaps, providing both the practices and the patient with a better experience.
#6: Customer Relationship Management (CRM) Tool
For practices with a large network of patients and referring doctors, a Customer Relationship Management (CRM) tool is the most effective way to manage and track your network. These systems not only help you manage your patient base, but will also help you track referrals by patient and provider.
When all information funnels through a CRM tool, you have a single source of truth to refer back to when managing patient and provider journeys, rather than information being spread out and managed in different ways.
#7: Track & Report Goals
Tracking your status in referral marketing helps you to develop goals and manage your progress. Even the smallest practice can benefit from tracking and reporting goals.
Whether you have a network of two or two hundred referring providers, documenting your progress and status with each of them can help paint a clear picture of your current state. Once you see exactly where you are, you can strategize to help reach target goals.
#8: Automated Physician Referral Marketing Campaigns
For a busy practice, automated campaigns are the way to go. An automated physician referral marketing campaign can be set up for your practice so that a series of emails are sent to a predefined list of healthcare professionals based on your practice's requirements.
This kind of hands-off approach ensures that your referral contacts are being contacted and nurtured, which keeps you in the front of their minds. Share information about your outcomes and stellar reviews to show why you are a great practice.
Utilize all of these referral strategies to increase your healthcare practice's success. Your patients will experience a greater network of trusted care, improving their satisfaction, acquisition, and retention.