10 Dental SEO Essentials to Promote Your Website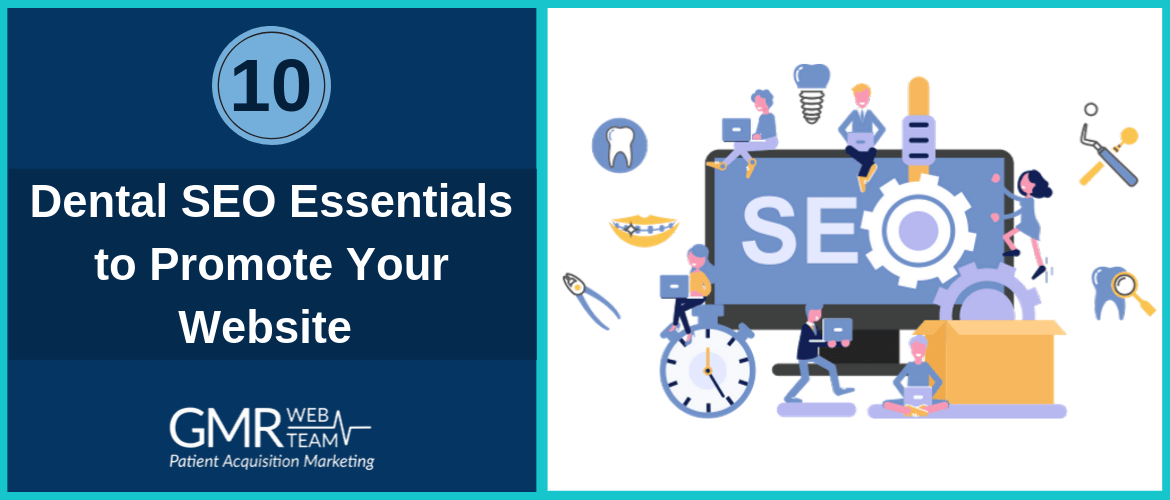 Dental patients have hundreds of options when it comes to choosing dental practitioners. As a dentist who wants to stand out from the competition, you need a competitive edge. Learning the ropes of digital marketing, especially Search Engine Optimization (SEO), can be effective in helping you to improve your practice's online visibility and to better connect with your patients.
To help you get more dental patients, here are 10 dental SEO essentials that you should implement on your website for better ranking on Search Engine Result Pages (SERPs).
1. Get SSL Certificate on Your Site
A Secure Socket Layer (SSL) certificate ensures that there is a secure connection between your website's users and the webserver. Visitors are more likely to stay on the website if it has an SSL certificate as they are aware that the information they provide will be safe. Moreover, Google favors websites with SSL certificates on SERPs and will rank your website higher.
2. Optimize Your Site for Mobile
A mobile-friendly or responsive website is one that displays content correctly on mobile devices. With more than half of online traffic coming from mobile users, it is essential that you optimize your website for mobile searchers to give them a positive user experience, or consider implementing AMP pages. Google considers design elements and mobile performance when determining where to rank websites on the SERPs.
3. Have Original and Engaging Content
Your website's content will determine how long users are going to stay on the website. Content also determines how well the site ranks on search engines. Ensure your content is original and regularly updated. Write engaging content and properly format it to help readers and search engine crawlers go through the content easily.
Also, research keywords and search terms to increase trust and build authority in your niche. Tools like Ahrefs, Ubersuggest, and Kwfinder will help you with this.
4. Loading Speed Matters
Your website loading speed determines the bounce rate, which affects conversion rate, search engine rankings, and site visits. A good page load time is three seconds or less. If your site loading speed is slow, visitors are likely to bail out as they don't have the time to wait.
Site speed is a vital SEO element and also affects the user experience. For example, a visitor will stay on your site longer if it loads fast. This is why Google considers loading speed as a ranking factor. To check your site load speed, you can use tools like Pingdom, GTmetrix, or Google
5. Make Your Contact Information Visible
You should have all of your contact information on your contact page. However, it's even better if you indicate the most important contact details such as your telephone number, email address, or location address on the footer of every page. Don't make your visitors leave any page of your dental website to find your contact information.
6. Local Optimization
The majority of patients looking for a dental practice will search around their local area. This is why you need to optimize your site for local searches. For starters, indicate your local address on Google My Business page or on Bing Places for Business. Then, ensure your NAP (name, address, and phone number) details are correct and up to date across all sites that contain your business information such as Yelp or Vitals.
The content you write should also be optimized for local visitors. For instance, you can include the name of your dental practice + your local city as part of your content to make the site visible for local searches and to rank better in those areas.
7. Create Local Landing Pages
If your dental practice serves more than one location, create local landing pages for each location to target visitors typing location-based search queries. The content you write on these pages should be optimized for local SEO to improve your site's ranking on search engines.
ClickFunnels and UnBounce are two important tools that can help you create custom landing pages for your dental practice.<
8. Optimize for Local Map Queries
Research shows that 1 in every 3 mobile searches are local. And Google is optimizing its SERPs results to show local results to mobile users. For instance, when a client from Portland, Oregon is searching for an orthodontist online, Google provides results for orthodontist practices in and near Portland, Oregon, and also a map showing the location of the practices.
If you want your site to appear on local maps, you'll need to optimize for local SEO by:
Using local search terms on your pages
Claiming your Google My Business listing
Have your citations on third party sites
Having customer reviews for legitimacy
9. Implement Schema Markup for Your Site
Schema is a structured code that is put on a website to improve its visibility on search engine results. Use schema markup for dentists to define the purpose of your specific web pages and to assist search engines in understanding your dental website's content better. Schema acts like a virtual business card for your site by showing:
What your site is about
Your location
The services you offer
10. Include Captivating Visuals on Your Site
Online content with videos and visuals get 94% more views compared to those that are plain text. Videos and visuals are easier to remember, compared to words. Moreover, they create better connections and are more engaging. For your website to rank well on search engines, provide video and visual contents that are relevant to your audience.
Follow the 10 dental SEO tips above to improve your dental site's rank position on search engines. However, don't forget that you need to constantly update your SEO strategies in sync with Google's best practices to maintain the best search results possible.