Google AdWords: Reporting to Go Easier for Multi-Channel Users
Google AdWords has announced that in the next few weeks, it will be rolling out three new reporting features to make reporting management easier for the multi-channel advertisers. This will help them find and analyze the relevant data more conveniently than ever.
Here are the three new AdWords reporting feature that will ease up certain tasks.
Filtering Your Account by Campaign Type
Want to see the report just for your Display Network performance or Search Campaign, or only the Shopping Campaign? No issues, the Campaign type selector will let you filter your account by the types of campaigns, thus saving you a lot of time. Learn how to use this feature.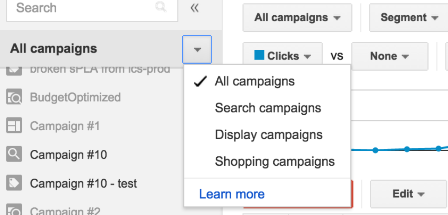 More Relevant Columns for the Campaign Type Selected
You often wish that you don't have to switch from one column to another for reporting on different campaign types? So now, the Last Viewed Column feature is here for you. This feature was previously there only for tabs, but in the coming weeks or so, it will remember the selections based on your campaign type too.
Here is an example from AdWords to illustrate the same.
Let's say you choose to add the Avg. CPM column on the Ad groups tab when looking at one of your Display Network campaigns. Later, when you view one or more campaigns of that same type in the same tab, we'll show the same columns you chose previously. So in this case, the next time you look at the Ad groups tab for any Display Network campaign, your columns will include the Avg. CPM column.
Pre-Defined Column Sets to Fetch More Relevant Data
Last but certainly not the least feature being introduced is that of Pre-Defined Column Sets. If your account has same type of campaigns but with different advertising goals, these column sets will help in the process of performance analysis much quicker and easier than before.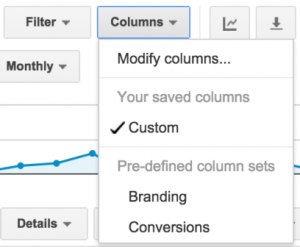 Here are the steps to use pre-defined column set feature for your advantage Stating the reason for this very move, Google emphasized on the fact that managing multiple campaigns is not a piece of cake and it can eat up a lot of time. These 3 new AdWords feature will ease up the reporting process making it much faster and simpler than before. Image Source [Campaign filter & Pre-defined column set]: Official Google AdWords Blog
For more information on this, read the blog.
---
Related Entries