Advertising for Healthcare: Using Digital Media to Attract More Patients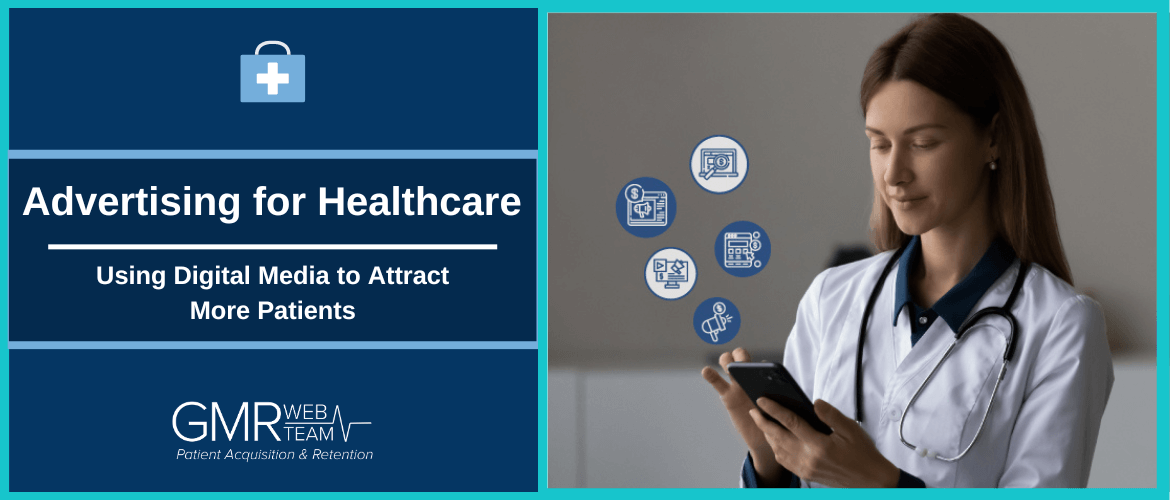 Today, healthcare providers face stiff competition to attract new patients. Therefore, healthcare providers must adopt new digital marketing strategies to reach their target audience. In this article, we will explore the concept of advertising for healthcare, why it is required more than ever, and list the strategies needed for this digital age.
The US is the world leader in healthcare advertising expenditures. In the U.S., healthcare advertising spending increased by 11.5% in 2022. With more than 80% of the patients frequently using smartphones, to either identify or interact with doctors, it is essential to understand how digital advertising is essential to attract more patients.
The transition to digital advertising was already underway long before the pandemic, but the restricted access to healthcare practitioners throughout 2020 and early 2021 hastened the process. Pandemic ultimately accelerated advertising in healthcare. Digital promotion and advertising came in place instead of the traditionally used pamphlets and brochures. Hence, emergence of advertising strategies that allows you to connect with your patients at the right time and place.
What is Advertising for Healthcare ?
Advertising for healthcare is the process of promoting healthcare services to potential patients. In this digital age, advertising for healthcare has taken on a new meaning. It involves using digital media platforms such as search engines, social media, email, and mobile devices. Advertising for healthcare is not just about promoting a practice; it is about building relationships with patients, educating them, and providing value.
Why is Advertising for Healthcare Practices Required More Than Ever?
In today's world, patients have more options than ever before. They can choose from a wide range of healthcare providers, both online and offline. Advertising for healthcare practices is necessary because of:
#1 Increasing competition
Patient competition has become more intense with the growing number of healthcare practices and providers. Advertising helps rules stand out and attract new patients.
#2 Changing consumer behavior
Consumers are becoming more proactive in managing their healthcare and actively seeking information and options. Advertising helps healthcare practices reach these informed consumers and showcase their services.
#3 Digital transformation
The rise of digital platforms and online search has made it easier for patients to research and compare healthcare providers. Advertising allows practices to establish a solid online presence and reach potential patients actively searching for healthcare services.
#4 Specialized services
Many healthcare practices offer technical assistance or niche areas of expertise. Advertising helps create awareness about these unique services and targets specific patient populations who may benefit from them.
#5 Need to Build trust and credibility
Advertising allows healthcare practices to communicate their expertise, qualifications, and success stories. By sharing testimonials, awards, and accreditations, practices can build trust and credibility among potential patients.
#6 Educating your patients
Advertising provides an opportunity to educate patients about various health conditions, preventive measures, and available treatment options. This helps patients make informed decisions and positions the practice as a trusted source of information.
#7 Engaging existing patients
Advertising is not just about attracting new patients; it also engages existing patients and fosters loyalty. Practices can stay connected with their current patient base by promoting new services, health campaigns, or educational resources.
#8 Addressing stigma
It can help tackle stigmas associated with certain health conditions or seeking medical help. By openly addressing and discussing these issues, healthcare practices can encourage individuals to seek the necessary care.
#9 Community outreach
Can be used to promote community events, health fairs, or educational seminars organized by healthcare practices. This helps practices establish a presence within the community and demonstrate their commitment to improving public health.
#10 Adapting to changing marketing landscape
Traditional marketing methods are becoming less effective, and digital marketing has become the norm. Advertising allows healthcare practices to adapt to this changing landscape and leverage digital channels such as social media, search engine marketing, and online advertising.
Overall, advertising for healthcare practices is essential in today's competitive and rapidly evolving healthcare industry.
Advertising Strategies Required for Healthcare Providers
To successfully advertise healthcare practices, providers need to implement the right strategies. Here are some effective techniques for promoting healthcare practices in the digital age:
#1 Paid Search Advertising
Drive your visibility and capture potential patients actively searching for healthcare practices in your area. By focusing on relevant keywords, you can secure top positions in search results, guaranteeing your ads appear when any person searches for specific terms like "Physician near me."
#2 Social Media Advertising
Effectively target specific demographics and engage with potential patients on platforms like Facebook, Instagram, and Twitter. As healthcare services your ads should reach individuals residing in specific areas or those who have expressed an interest in your practice, increasing the chances of attracting new patients.
#3 Local Ads
Leverage the power of local advertising to connect with the surrounding community in need of medical attention. Utilize targeted advertising techniques to promote services and highlight the convenience and promptness of your clinics or services, ensuring quick access to quality healthcare.
#4 Display Ads
Capture the attention of the right audience by utilizing display ads that consider factors such as location, demographics, and browsing behavior. As healthcare providers you can showcase your expertise, facilities, and the advantages of choosing your services, reinforcing you as a trusted healthcare provider.
#5 Email Advertising
Email advertisements are a great way to engage with your patients and keep them informed about the latest services and offers. You can create targeted email campaigns based on patients' interests and preferences. Email marketing is basically used to promote new services, educate and aware patients, and build relationships.
Attract More Patients through Digital Advertising for Healthcare
Advertising for healthcare practices is essential to differentiate you from competitors and reach your wider audience. In this digital age, as a healthcare provider, you must adopt new advertising strategies to succeed. Some effective strategies are PPC advertising, social media advertising, paid email marketing, local ads and display ads. By implementing all these strategies listed above you can attract new patients, retain existing ones, and establish your practice as the best of all.
At GMR Web Team, with the help of our 360 digital marketing approach, we provide healthcare providers grow their businesses. Contact us today to learn more.