5 Types of Online Video Content that Can Boost Your Patient Acquisition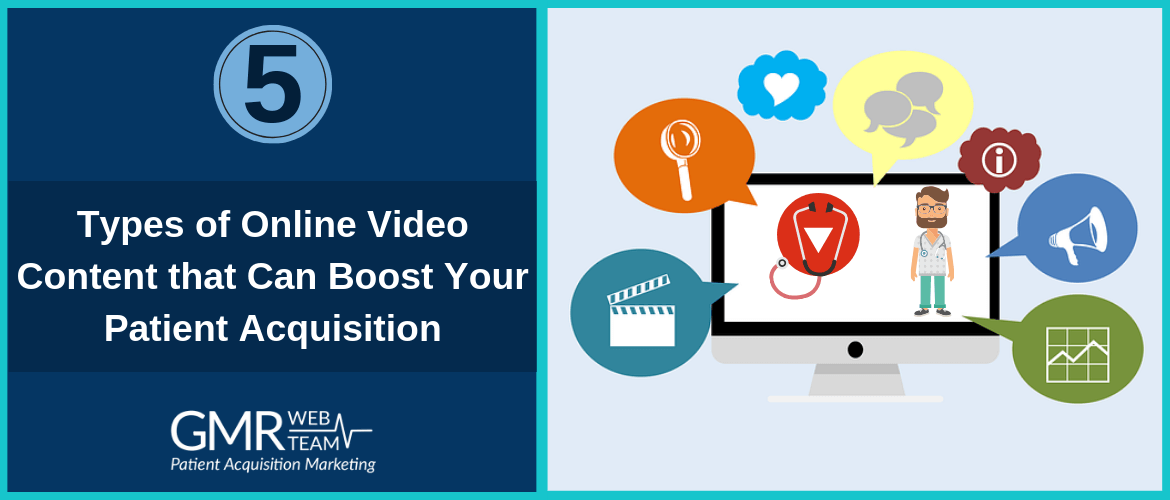 Every healthcare practice depends on a steady stream of new patients to not only stay solvent but also to continue to grow and evolve for years to come. But in an era where new competitors are emerging all the time, and the healthcare landscape is continuously changing all around us, standing out in an already crowded marketplace can be difficult on the best of days.
Enter: online video marketing for healthcare professionals. If you truly want to not only boost your patient acquisition efforts but also pay less per lead at the same time, there are a few key aspects about healthcare-related video content in particular that you should definitely start leveraging in any and all ways that you can.
1. Patient Testimonial Videos
If you only want to experiment with one type of video content in your effort to boost patient acquisition, make no mistake about it: it should be patient video testimonials.
These videos are not only a great way to let your existing, satisfied patients tell their story, but it does so in a highly emotional way. When people can see the expression on someone's face or hear the tone in their voice, their words resonate more than they ever would using text alone. Likewise, a video has tremendous sharing potential - on social media, in particular, video content like this is shared about 12 times more than text and images COMBINED.
But when you also consider that people trust reviews and testimonials as much as or even more than they do recommendations from their own friends and family members, you've got something of a perfect storm on your hands that your practice literally cannot afford to ignore.
2. FAQ Videos
If you had to make a list of all the things that people use the Internet to learn more about, their health would undoubtedly be right at the top. According to one recent study, about 80% of all Internet users - or roughly 93 million people in the United States - say they've used online resources to look up more information about their health and wellness.
This, in essence, is why FAQ videos for your practice are so important. Film a series of videos where you go into great detail on topics that people want to learn more about. You could take questions from existing patients or research current industry news to get ideas. Whether you release them to social media, YouTube or to your own OTT service, doesn't matter - people are already looking for the answers to these questions and if you film FAQ videos, you can make sure they get them from YOU.
3. Interviews
One of the biggest benefits that online video content brings to the table for healthcare professionals, in particular, is the never-ending stream of opportunities that let you establish yourself as an authority in the minds of your prospective patients. Case in point: interviews. If there's a particular influencer in the healthcare space that your audience is already paying attention to, consider sitting them down and conducting a 10 or even 20-minute interview on a wide range of topics that matter a great deal to the people you're trying to reach.
There are two key benefits here, both of which work to your advantage in a big way. The first is that once again, people will be able to see you for the genuine authority that you really are. They'll judge you (and your practice) based on the way you carry yourself, and on the quality of the questions that you ask. Secondly, you'll be able to expose your practice to someone who already has a built-in following - thus using the attention they already have to YOUR advantage.
4. Culture Videos
Another great way to show off what makes your healthcare practice unique involves filming and distributing a series of culture-related videos that would be perfect on a video-on-demand site or even on social media networks like Facebook.
One approach might be to film a series of short vignettes that highlight what a day in the life of your practice is like. If your company picnic is coming up in a few weeks, consider bringing a camera along to capture the day's events. The goal here is to show prospective patients that you're more than just another doctor's office or private practice - you're a team of hardworking, passionate, and real men and women who just want what's best for each and every person who walks through the door.
5. Staff Highlight Videos
Last, but not least, we arrive at "Staff Highlight Videos" - another way to play directly into the emotions of your prospective patients. Remember that going to the doctor is nothing if not intimate - you're putting a tremendous amount of faith and trust in someone you've probably never met before. So how, as a healthcare professional, do you combat this natural and understandable fear? It's simple - introduce your staff to the world to see.
Essentially, take the "About Us" page on your practice's website and break it down into short videos that highlight each one of your staff members. Let them tell patients more about who they are, their qualifications, and why their work is so important to them. It will again give patients something meaningful to latch onto, thus making patient acquisition no longer a matter of "if" but "when."
Read Also: How Videos Helped Us Boost RepuGen's Conversions by 100%