How Videos Helped Us Boost RepuGen's Conversions by 100%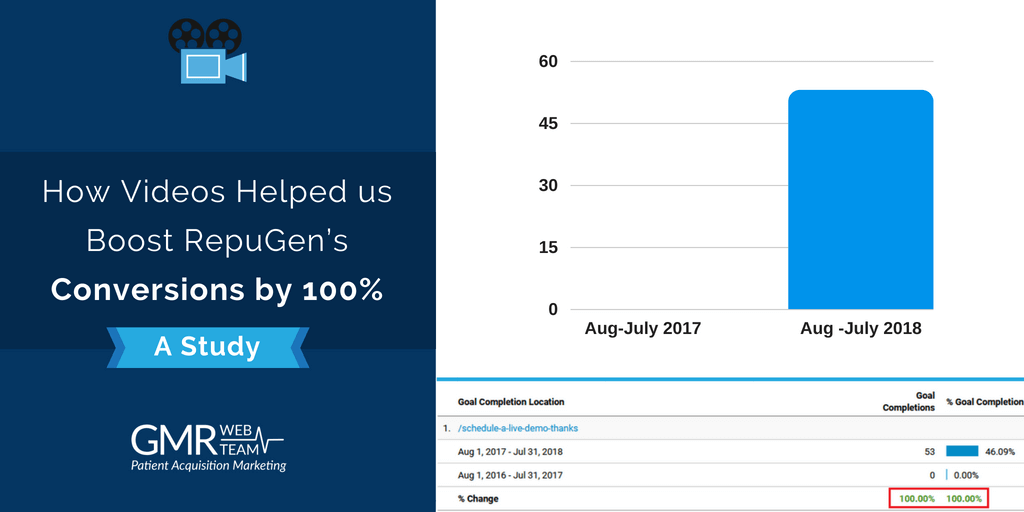 WHAT DID WE DO NEW SINCE 1st OF AUGUST?? WE STARTED STRATEGIC VIDEO MARKETING!!!
Flashback:
We were using every aspect of digital marketing in order to market our software, RepuGen, across the globe. The feedback from our existing clients about the software was fantastic, the features that we were offering were unique & much needed in the healthcare industry, a robust online presence was very much there, but still, our phone was just not ringing! As digital marketing experts, we were baffled and were just not able to understand what we were missing on. It was then, when we figured out what had overtaken the world of internet by then: Yes. Video Marketing.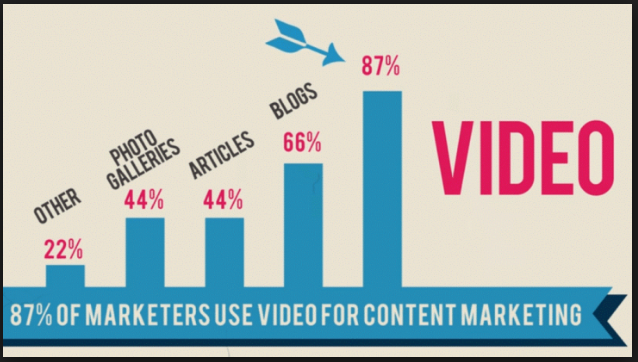 2017 was the year that witnessed a phenomenal rise of videos. Not that we did not have a YouTube channel. We had a channel with multiple stray videos posted randomly. Like every other serious business, we were living under the notion that the significance of video marketing is limited to the entertainment industry. But, that was the time when we realized that the era has begun where VIDEO MARKETING is a MUST every business segment.
Our Path To Success:
Step -1: Identifying & Treating YouTube As An Independent Search Engine [YouTube Search Optimization]
Although Google Analytics bluffs us into believing that YouTube falls under social media networks, but let's face the fact. It's not just that. It is a search engine in itself that has its own independent algorithm, its own set of keywords (which greatly differs from Google keywords as YouTube keywords are mostly long-tailed and question based), its own behavior pattern & persona and most importantly, a LARGE share of internet users who prefer searching for information in the form of videos.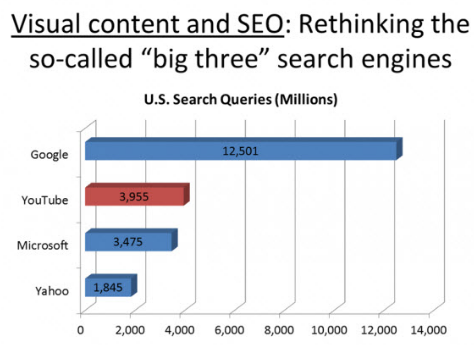 As we all know, YouTube is the most dominant name when it comes to searching for videos online. Moreover, it's Google's own baby. So, if you have a well optimized YouTube channel, the chances are high that Google will start showing your videos in the search results. So we started working towards it with the following:
Organizing and optimizing our existing videos that were present on our YouTube channel.
Identifying YouTube keywords that our audiences were most active on
Creating videos based on those queries (keywords) and including those keywords in the voice overs.
Posting the videos on YouTube based on the same SEO principles, that are used while blog posting!
Working on link building activities in order to drive relevant audiences to our YouTube channel.
Updating the tags on a regular basis until we started to show up in the results for the targeted keywords, both on YouTube as well as Google.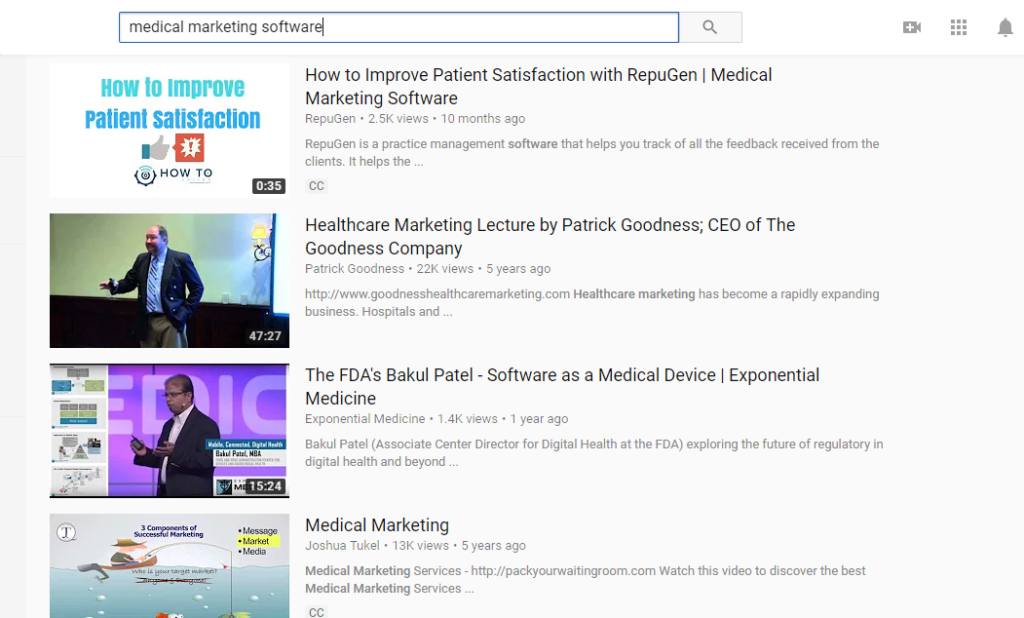 Step -2: Establishing Brand Presence With The Help Of Videos [Bagging Relevant Video Views]
Once we successfully started to rank for these keywords, our next motive was to get our audiences to click on our videos. So once the thumbnail of a video attracts us in the search results, what is the next thing that we look for before clicking on the video? If you haven't already answered that, let me tell you. We immediately check the number of views. If the number of views is too low, our attention immediately shifts to the next video. That's the impact of branding. So our next mission was to bag views on our videos. I was not as easy as it sounds. The biggest challenge was to get only the relevant audience land on our videos. Watchtime of a video is one of the most important YouTube ranking factors. So, in order to make sure that our YouTube audience sticks there for a while, we came up with a strategy for driving only the relevant audience to our videos. So here's what we did:
We started a strategic paid campaign on Google Adwords targeting YouTube keywords that doctors, practice managers and healthcare businesses were most active on. This way, we were sure that we were getting majority relevant views. Thus, we managed an Average Watchtime of 83%!
Next, we identified pointed questions & discussions at online communities like Quora, where our target audience is present. We started answering their questions by briefly explaining our software and then embedding our videos for further information.
It worked wonders for us as we started getting relevant YouTube views from Quora and other similar communities that we were working on. This led to increased relevant website traffic (the Bounce Rate went as low as 33% and the Average Session Duration went up to around 8 minutes) & we even got a couple of conversions directly from YouTube.

Step -3: Using Videos For Lead Generation [Conversion Rate Optimization]
By now, we had mastered the art of optimizing our videos so well that they started to rank on Google as well along with YouTube.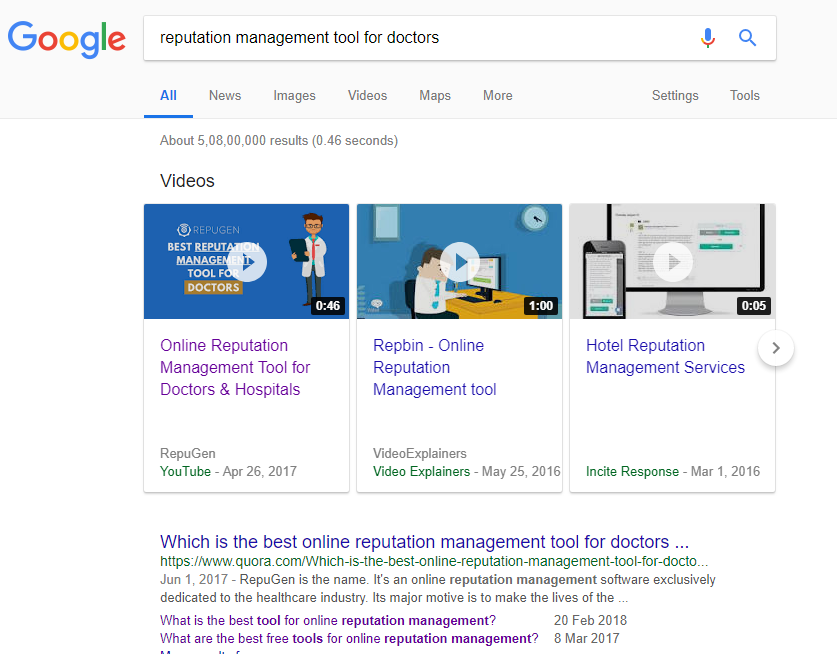 Our audience base kept expanding and this in turn boosted our brand value. RepuGen, is a well-established brand now, when it comes to healthcare reputation management tools with 194 YouTube Subscribers (still growing) and over 60000 channel views until now.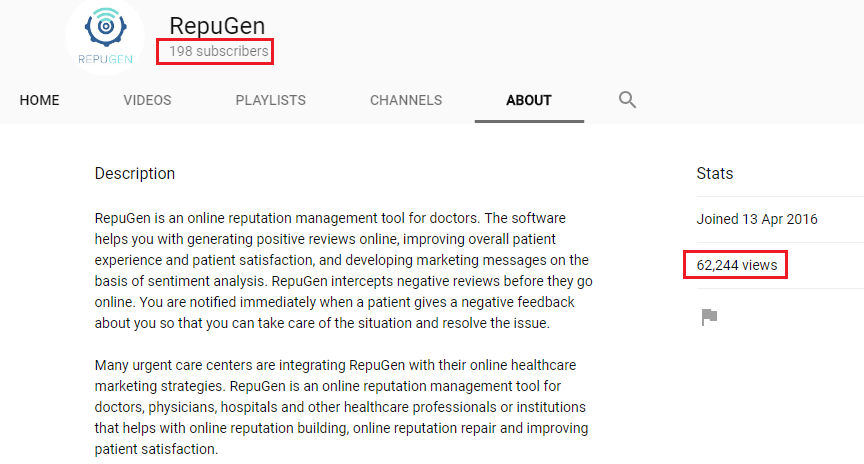 The next step was to optimize the conversion rate. In order to do that we knew that we needed to continue doing what had worked for us in the past. In addition to that, we started using videos as a valuable weapon by including them in our other marketing strategies like blogs, emailers, Facebook, Twitter, blog commenting activities and more. The impact was remarkable. As stated in the beginning of the case study, our conversion rate shot up by 100% after integrating videos in our marketing mix.
4.65% of executives visit the marketer's website and 39% call a vendor after viewing a video. >- Forbes
Our videos had played a great role in making this happen. Most of the recent stats suggest that people are likely to visit the website within a week after watching a video. Moreover, we also started getting calls from the potential prospects who claimed that they found out about RepuGen through our videos!
Video Marketing can play a major role in growing your business. We can help you with our expertise in 360 degree video marketing services.

Below is the list of services that we provide:
Video Production (includes coming up with a marketing strategy that's best suited for your business -- we do not produce videos without having a clear marketing goal)
YouTube Search Optimization
YouTube Paid Marketing (brand awareness campaigns for increasing Video Views and number of Subscribers)
Conversion Rate Optimization with the help of videos
Overall Strategic Video Marketing for getting better results from digital marketing