Listen, What Your Dentist Has to Say About COVID-19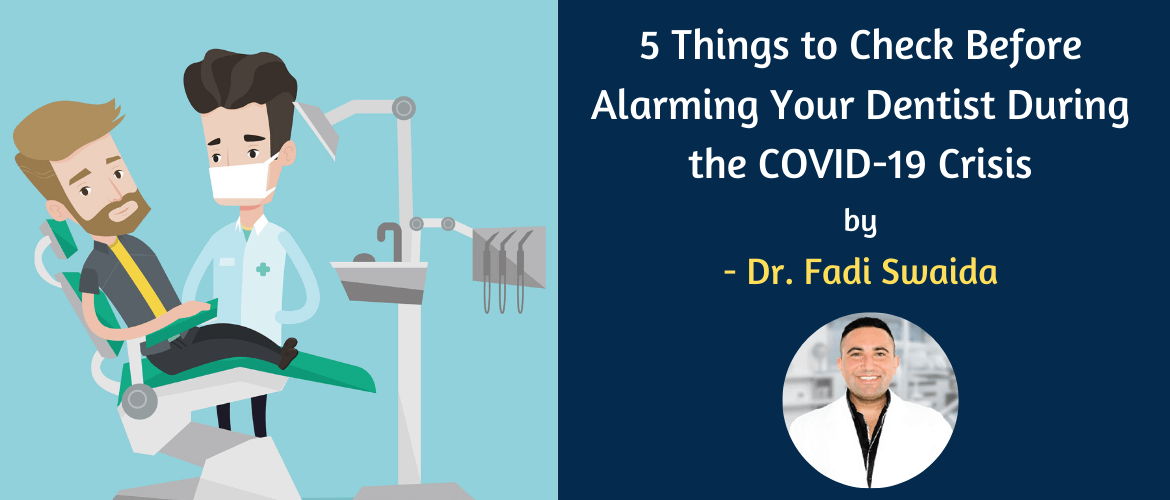 We being a healthcare marketing agency, are regularly interacting with leading healthcare professionals, and the emergence of COVID-19 has left us all with more questions than answers. You also must be hearing from various governmental agencies that it is best for you to isolate yourself and not leave the house, except for essential activities like going to the grocery store.
However, the definition of what is considered essential can be confusing. For example, does visiting the dentist fall under an essential activity? Well, that depends on a few criteria. When we approached one of our leading dentist friends, Dr. Fadi Swaida with this question, here's what he has to say.
According to Dr. Fadi, these are the five things you should check before you decide to contact your dentist during the COVID-19 crisis.
1. What The Guidelines in Your Area Say
Every region has different guidelines regarding what you can and cannot do during this uncertain time. While some areas have many cases, others do not. If you are lucky enough to be residing in an area that does not have any cases and is not under a state of emergency, then you might be alright to go to the dentist. However, in most areas, it is best to stay at home unless your situation is urgent. This is particularly true for people that are immunocompromised or older than 70.
If you are looking for the guidelines in your area regarding what is deemed essential versus what is not, then it is best to look at your state website. If you are specifically interested in what dental services are being offered in your region, then you can also visit your state dental association website. For example, if you live in California, then you find out essential activities on this website or by visiting the California Dental Association website.
You should be able to find all relevant information on your state's website, but if you're still not 100% sure, you can always check with your dentist.
In case of an emergency, you will get treated, but it's important to remember that not every toothache is an emergency. There are several types that can justify your trip to the dentist, such as loose or knocked-out teeth. If you have an appointment or a scheduled dental procedure, you will likely receive a call or an email from your dentist to postpone the visit. If you don't hear from your dental clinic, then make sure to call and ask before going in.
2. Look Up Tips to Avoid Contracting Infection While at the Dentist
If you do choose to go to the dentist due to a dental emergency, then it is important to look up the types of precautions you must take before leaving the house. Dentists and dental staff see all sorts of patients and, therefore, can easily pick up all sorts of infections, such as COVID-19. These are some of the tips to keep in mind before you leave your house to visit the dentist.
Avoid touching surfaces. If possible, wear gloves when you are out and about.
Wash your hands with soap and water meticulously for 20 seconds at a time.
Use hand sanitizer after touching surfaces.
Use disinfecting wipes to clean surfaces.
Stay a safe distance from others (6 feet). While you may not be able to avoid this one with your dentist, it is best to practice this with the other staff and patients at the dental office.
3. Ask Your Dentist if They Can Accommodate a Virtual or Phone Appointment
If you are worried about your dental health and cannot postpone seeing the dentist, then you should inquire whether your dentist accommodates an online or a phone appointment. This way, the dentist can assess whether your dental problem is severe enough to risk coming in and potentially getting infected or infecting others. If you describe your condition to your dentist, then they might be able to diagnose you over the phone and let you know if it is necessary for you to come in.
4. Check If You Have Coronavirus Symptoms
If you are experiencing symptoms associated with COVID-19, then it is vital for you to self-isolate, or go to a doctor. In case you have COVID-19 related symptoms, please do not go to a dentist. It is imperative that you stay at home so that you do not endanger other people. These are the symptoms you should watch for that can indicate whether you or a loved one you are in contact with, is experiencing COVID-19 symptoms.
Fever
Tiredness
Dry cough
Aches and pains
Runny nose
Sore throat
Diarrhea
Nasal congestion
Difficulty breathing
You can find more information here.
5. Check if Anyone at the Dental Clinic Has Any Coronavirus Symptoms
If someone at the dental clinic has symptoms associated with COVID-19, then it is best for you to avoid the clinic. This virus is extremely transmissible, and chances are, other people at the clinic will also be infected if they have come in contact with a COVID-19 patient. Even if the staff members are not experiencing symptoms, they can still spread the disease. Therefore, if you need to go to the dentist in case of a dental emergency, make sure to call ahead and make sure that the staff is COVID-19 free.
Conclusion
Keep in mind that the situation is changing every day. If your dental appointment is something that can wait even one week, then you should postpone it because it is not worth risking your or somebody else's life. Of course, if you are having a dental emergency, then contact your dentist, see if they are available, and make sure that they are free of coronavirus symptoms before seeing them.
This is a crucial time in our lives, and it is very important that each and every one of us carry out our duty to protect ourselves and others. The best way to do that is to stay at home. Therefore, to the best of your abilities, avoid going to the dentist unless it is for a dental emergency.