5 Tips for Measuring the ROI of Your Local Advertising Campaigns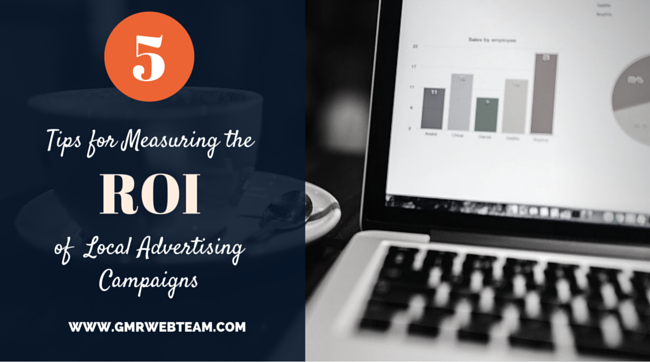 Marketing is an inescapable part of doing business no matter what industry you work in. Today, there are more ways to advertise than ever before, which can make it difficult to determine how you should allot your ad spend. For most businesses, local advertising campaigns are the most effective.
But how do you know for sure? And what if one local advertising campaign is better than another? In our age of big data, methods for measuring ROI are just as varied as the marketing channels themselves. The five tips below are proven techniques for accurately gauging the ROI of your local advertising campaigns.
Number of Sales
The most obvious measurement is number of closed sales. To get an accurate estimate of how sales have been affected by local advertising campaigns you must account for seasonality and have a baseline for comparison. To get a baseline, analyze your gross sales revenue for the period before starting the campaigns. Then compare the current sales figures to the baseline as well as sales from the same time period the year before. Subtract the cost of the campaign to determine how sales revenue has been impacted since implementing the local marketing strategy.
Local Call Tracking
Another way to measure the ROI of local advertising campaigns more accurately is with local call tracking. A virtual phone service can provide the tools needed to track where calls are coming from, the caller's location and if the call converted into a sale. You'll first need to obtain unique phone numbers from a local or vanity phone number provider. A unique virtual phone number will then need to be added to each advertising campaign. When each campaign has their own phone number, call tracking can easily tell you which campaign is driving the most high quality leads.
One of the biggest benefits of local call tracking is that it applies to both your online and offline marketing strategies. Therefore, it gives you a more complete look at what channels provide the highest ROI.
AdWords Conversion Tracking Tool
AdWords doesn't just help you set up local campaigns: it can also help you measure their effectiveness. The AdWords free conversion tracking tool can be used to establish what's considered a conversion and track how many times a conversion activity occurs. Determine how much each conversion is worth to you, subtract the amount spent to get the conversion, and then you'll have a clear measurement of the ROI on your local PPC and display ad campaigns.
Use Google Analytics to Measure Web Activity
No article on measuring ROI is complete without mentioning Google Analytics (GA). GA is the go-to resource for measuring the activity on your website, including conversions and revenue generation. GA will track all website conversions, not just activity coming from AdWords campaigns. You will also be able to see where visitors are coming from and figure out if your ads are driving traffic.
To measure ROI, you'll need to set up goals in Google Analytics that signify a conversion. This could be filling out a form, making a purchase, etc. Once goals are established, GA can track them and figure out your conversion rate for you. These Google Analytics goals can even be shared with your AdWords account so GA conversions can be seen in AdWords. This can also help optimize bids and lower costs to increase the ROI.
Brand Recognition Through Social Media
Social media is quickly becoming a common research tool for consumers. In addition to your own website and search engines, social media sites provide consumers with information about your company and public opinion. If you're seeing an increase in activity on your social accounts, this is a good sign that your local advertising campaigns are building brand recognition.
You can also do keyword searches within social media to see how your company is trending while running local advertising campaigns. Another way to use social media as a measurement tool is with hashtags. Create a campaign-specific hashtag and then track how often it's used on social media sites.
Measuring the ROI of your local advertising campaigns isn't always easy, but it is worth the time. The five strategies above are the essential ways of measuring your local advertising campaigns to ensure they are worth the cost.