Marketing for Doctors: 10 Best Proven Activities for Your Practice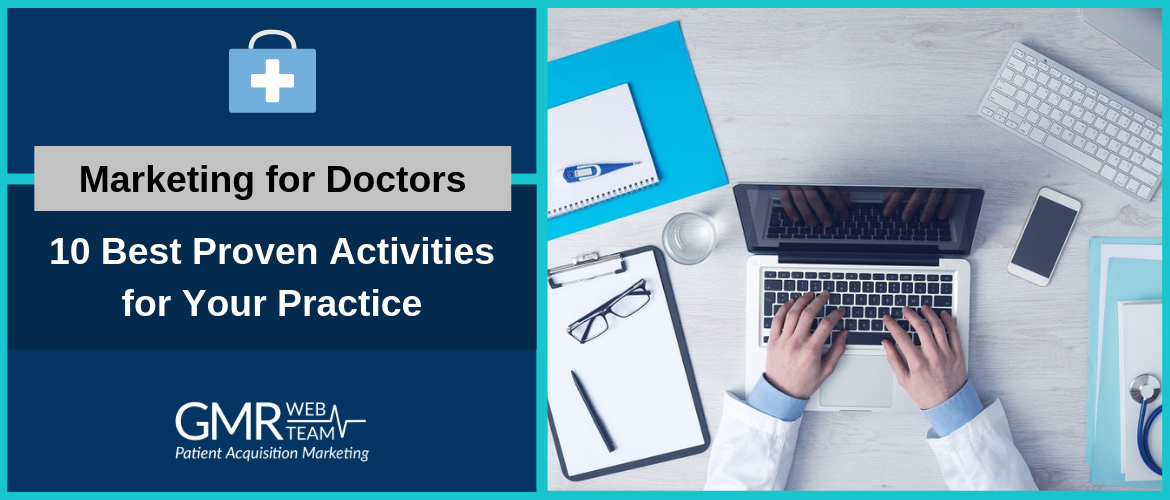 There are dozens of marketing strategies that you can implement, but not all of them may be suitable for your medical practice. Specifically, when it comes to marketing for doctors, there needs to be a comprehensive plan that focuses on finding, attracting and retaining patients.
Read on for our practical tips and techniques on marketing for doctors that will help you to effectively market your medical practice.
1. Understand Patients' Needs to Enhance Revenue
Understand your patients' needs and expectations and then draft your medical marketing content accordingly. Remember that no one opts for a surgery or a medical procedure by choice. They are simply looking to be treated but they don't really know what will actually help. Therefore, you should craft your marketing message highlighting how exactly you can help them recover rather than directly laying down the treatment options. This will help you win more patients.
2. Marketing Is Not an Expense; It's an Investment
Marketing is crucial to fueling the healthcare business model, so marketing for doctors must begin with a detailed game plan. A plan based on proven strategies and tactics—that includes specific goals and a means to measure your marketing ROI. It also includes a list of marketing activities (the important ones we have discussed below) that will help doctors in achieving their goal of acquiring new patients, but also retaining them as loyal promoters of their practice.
3. Implement a Video Marketing Strategy
Video content is expected to account for 80% of all the online traffic in 2019. With YouTube being the second largest search engine after Google, you can't afford to ignore video in your medical marketing strategy. Visual content has more impact on prospects than text. Using video also helps to improve your website's search engine rankings, as video content is 50 times more likely to rank on search engines than text.
Source: Tubular Insights
Here are some video marketing ideas that you can implement for your practice
Shoot patient testimonials
Have website welcome videos
Record procedure and treatment overview videos
Post a frequently asked questions video
4. Encourage Patients to Leave Reviews
When it comes to marketing for doctors, reviews are critical. About 72% of patients consider online reviews when looking for a new doctor. Positive reviews will make patients to trust your practice. Encourage your current patients to leave genuine reviews about your practice and staff on review sites. Also, respond to these reviews, whether positive or negative.
5. List Your Practice on Online Business Directories
When a prospect is searching for a medical practice on Google, 4-5 business listings will show up above the organic search results. On mobile, these are the only search results that prospects will see without scrolling down. It is important to be listed on local directories such as Google Business and Yelp so that patients can find your practice easily.
Use the same contact information of your medical practice in the listings across different platforms to show that your business is legit.
6. Social Media Marketing
According to PwC, 41% of healthcare customers say that the content they find on social media impacts their choice of the treatment center they will visit. Sharing great content on social media helps to keep your audience engaged and can be a great way to reach a broad number of potential customers. However, not all social media platforms are the same. Therefore, take time and evaluate the best platform for your marketing campaigns.
7. Have a Professionally-Designed Website
Online visitors will form an opinion about your practice in 0.05 seconds after your site loads. Moreover, 5% of visitors will judge the credibility of your practice based on your website design. Therefore, your site needs to be:
Well designed
Load fast
Mobile-friendly
Optimized for SEO
Secure
Easy to navigate
In addition, focus on the areas below to improve conversion rate:
Have online scheduling and billing
Have online patient portals
Make it easy for online patients to message you
Have more videos on your site
8. Email Marketing
66% of people check their emails in the morning. Moreover, 90% of adult patients wish that their doctors would improve the way they communicate with them on email. Email marketing is one of the most effective ways of marketing your practice and acquiring leads because it is low cost, easy to personalize, and easy to implement. Encourage your patients to sign up for your newsletter. Share the latest news of your practice, discounts, and important healthcare insights with your subscribers.
Additionally, let the email messages be consistent and suitable for your practice. This way, your practice will always be at the mind of your patients.
9. Track Your Marketing Campaigns
Tracking your marketing campaigns can help you to know if your efforts are paying off. Some of the metrics you can track include:
Source of your patients
Admission rates
The total revenue
Readmission rates
Return on investment (ROI)
Tracking helps you to identify the best-performing campaigns and those that need some improvements to boost ROI. Medical practices can see positive ROI from using the right marketing strategies for doctors.
10. Keep a Winning Attitude to Achieve Your Goals
Apart from implementing the strategies above to reach your sales goals. Our most favorite doctor marketing idea is all about keeping a winning attitude. Healthcare competition is fierce and healthcare practices that sideline their marketing needs will further lag behind. Therefore, devote enough time and resources to stay ahead in the game. Remember, minuscule marketing activities are worse than none at all. Our most successful doctor clients believe that healthcare marketing is an all-time thing, and it's only when you play to win…you will. If you want to know how exactly we do it, fill in your details below.