How to Grow a Dental Practice: A Must Read for Dentists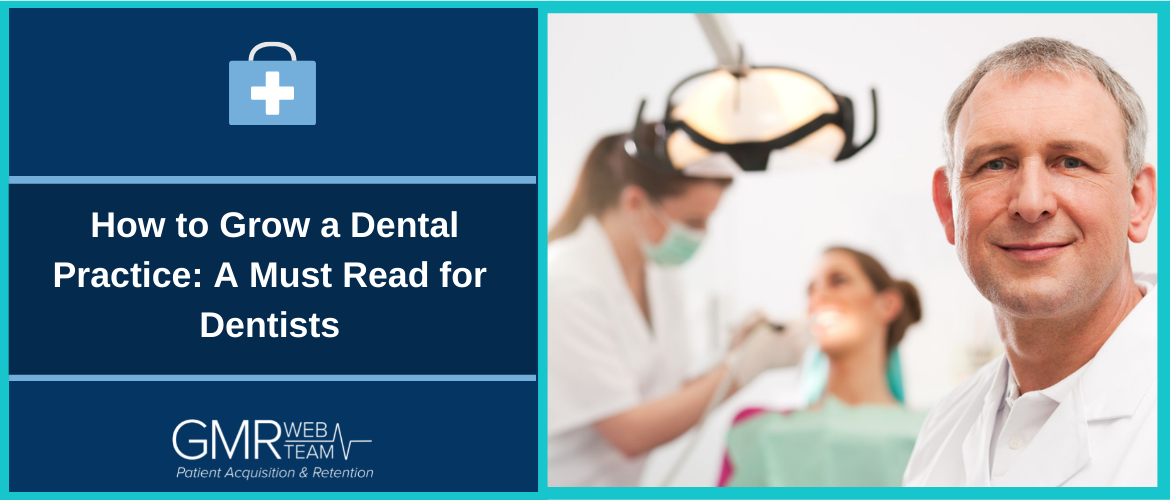 In a time of rapidly changing digital landscapes, it can be hard for dental practices to keep up with the latest trends that bring patients through their doors.
Dentists must compete with each other for the pool of local patients. A dental practice that does not prioritize its digital presence will likely not last long when its competitors are bringing in new patients through Google, targeted ads, emails, and social media campaigns.
To keep your dental practice growing, investment in digital tools and advanced marketing plans are a must.
Growing Your Dental Practice with Patients Looking Online
When patients begin to search for a new provider in their area, they turn to the internet (most likely using Google on their mobile device, to be specific.) Thus, a dental practicer needs to be found online so that patients can find out more information about the practice and book an appointment or request more information, all from the website.
Growing your dental practice's online presence also helps both prospective and current patients access information any time of day, cutting down on phone calls and acquiring more patients actively looking for a provider.
When searching for a dental provider online, the most commonly used term is "dentist near me," with 1,830,000 Google searches in 2021 alone. The other commonly used search terms were "emergency dentist near me" (165,000 searches), and "dental clinic near me" (33,100 searches).

Source: Google Keyword Planner
Notice that all three terms have "near me" at the end. This is due to advanced geolocation features on mobile and desktop devices these days, allowing search engines to show people results nearest to their location.
To grow your dental practice in the digital age, getting ranked for "near me" keywords and maintaining correct location listings throughout your online presence is crucial.
Effective Strategies to Grow Your Dental Practice
There are many strategies and considerations to keep in mind when growing your online presence and increasing revenue.
#1. ImprovePatient Experience at Your Dental Practice
At the core of happy, returning patients is a stellar experience. Taking time to improve your patient experience from the moment they find your website to when they return home from their appointment, providing patients with a seamless and satisfying experience will go a long way.
#2. Increase Patient Engagement
Engaged patients are key to growing dental practice. Patient engagement can take on many forms, from general communication to social media interactions. The main idea here is to continually improve patient outreach and communications, so patients stay proactive when it comes to their health and it keep your practice top of mind.
#3. Focus on Patient Satisfaction
Having a structured patient review plan can help dental practices to identify their shortcomings as well as continue what they are already doing well in the patients' eyes. Have a plan in place to automatically survey all patients for their feedback after their appointment. Routinely review and analyze feedback to see what changes are being made to the practice.
#4. Implement Online Reputation Management
Over 80% of patients consider online reviews when choosing a new healthcare provider. In order to attract new patients, dental practices must have a plan in place to manage and generate more reviews across all platforms, such as Google, Yelp, and Healthgrades. Online reputation management for dentists means reading and replying to all reviews, reporting spam reviews, and more.
#5. Have a Simple Booking Process
Especially since the onset of COVID-19, people are getting used to having many of their online needs met with just a few clicks on a website. From ordering food to purchasing a car, businesses have automated processes to make it easy for consumers. Dental practices should keep this in mind when choosing a booking process. Allowing patients to book and confirm appointments online provides an easy way for new patients to get through the door.
#6. Have Clear Policies About Payments
Dental care is expensive, and many patients are intimidated by dentist visits for this reason. Having clear messaging about your service costs, payment forms accepted, when payment is due, and any flexible payment plans can help a prospective patient who may be wary about finances to go through with booking an appointment.
#7. Create Strategy for No-Shows and Cancellations
No-shows and last-minute appointment cancellations cost U.S. healthcare providers over $150 billion per year. A clear cancellation policy should be in place to deter habitual cancellations and reduce no-show rates. Implement appointment and confirmation reminders, so patients do not forget about their appointments.
#8. Search Engine Optimization for Your Dental Practice
Search Engine Optimization (SEO) is imperative for dental practice websites. Optimizing your digital presence helps prospective patients find your practice over your competitors on search engine result pages. The higher you rank, the more likely you will be attracting new patients actively looking for care.
#9. Produce Quality Content
Patients can have a lot of questions. Instead of letting them run through hundreds of different websites for information about cavities, make your website a one-stop-shop for them instead. Heavy internet traffic shows search engines that patients are trusting your website, which in turn will allow it to rank higher on result pages. Having information on your website can also cut down on time spent by staff answering questions. If a patient has a general question about cavities, staff can point them to the website for more information.
#10. Be Active on Social Media
A social media presence is a great way to keep patients engaged, as well as connect your dental practice to your community. Maintaining a social presence with a growing local following is a great, free way to market your practice.
#11. Create Your Dental Business Plan
A business plan is a must in order to organize and keep track of any and all marketing efforts, budgets, goals, new patient numbers, and more. The only way to grow a dental practice is to keep track of milestones and goals in order to adjust future strategies.
#12. Understand Patient Communication
There's no use emailing patients that don't use email or texting patients that don't look at their phones. To stay engaged with patients, ask for their preferred communication channel(s) so you can get a hold of them for questions, billing information, referral requests, and more.
#13. Invest in Automated Technology
Automated technology is a must for a busy dental practice looking to grow. Virtually everything these days can be automated after a simple set up which includes emails, phone calls, text messages, appointment bookings/reminders/check-ins, and more. Investing in this technology leaves staff more time with patients and less time answering phones and sending emails.
#14. Expand Services Offered
While a tall ask for a small and busy dental practice, expanding services offered certainly helps bring in more patients. Research your competitors and identify any gaps in service that patients may see on their end.
#15. Have a Modern, Mobile-Friendly Website
With 60% of patients researching healthcare providers on their mobile devices, a sleek and user-friendly mobile version of your website is non-negotiable. Make sure your phone number is tappable (so patients can call with one click), location is linked to maps, all buttons work, and all text is legible.
Conclusion
Growing a dental practice is no easy task. There are multiple moving parts, strategies, goals, and budgets to keep in mind. That's why it's never a bad idea to seek outside help, such as a marketing agency that specializes in growing dental practices.