How Teledentistry Helps You with Patient Acquisition and Retention in a COVID-19 World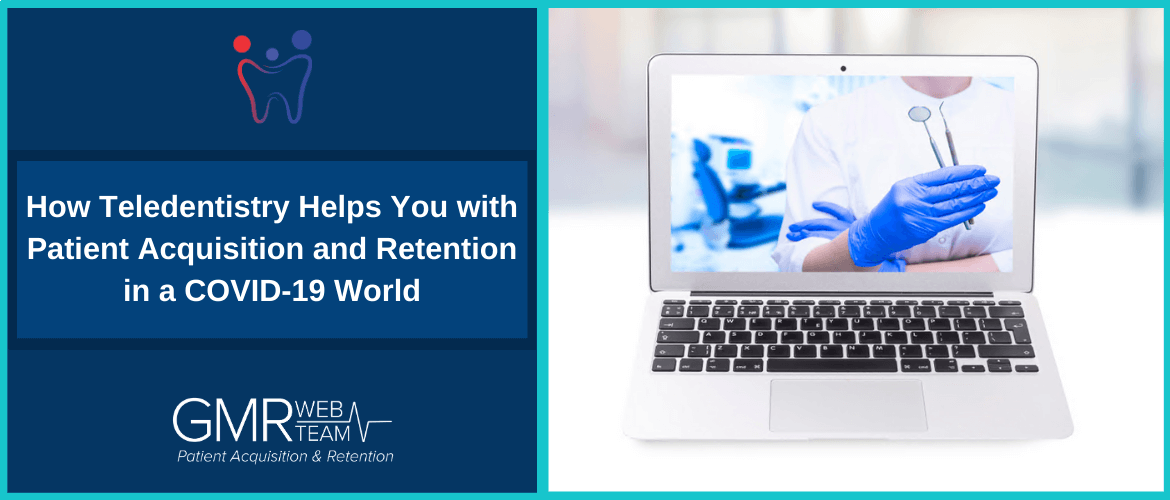 During the COVID-19 shutdowns of 2020, many dental practices embraced teledentistry so that they could offer their patients consultation and diagnostic services. Even after the practices reopened, teledentistry has continued to facilitate safe interactions and communication between dentists and their patients.
Teledentistry has proved to be a strong catalyst for patient acquisition and retention in a COVID-19 world. Today, more and more practitioners are adopting this hybrid service model that may also support in-office restorative services.
Here's how teledentistry can expand your patient base and increase patient retention rates during the pandemic.
What is Teledentistry?
Teledentistry is the application of information technology and telecommunications to facilitate interactions between dentists and their patients. These engagements occur virtually through two-way audio, video, or text exchanges, enabling the sharing of digital information such as diagnostic images and radiographs, and patient files. During the coronavirus pandemic, using this technology has helped minimize the risk of infection among dental practitioners and their patients.
Teledentistry As a Catalyst of Patient Acquisition
Teledentistry can help you bring more patients and grow your business. The virtual technology requires no in-person engagement, enabling you to serve more patients, including beyond your local geographical location. It makes your practice a viable option for dental patients that would otherwise have to visit a local clinic that doesn't necessarily match their expectations.
Virtual services in dental care are an idea whose time came a long time ago simply because it fits into the lifestyles of many Americans. For example, millions of work-from-home workers are already using video conferencing.
Also, studies suggest that being able to offer virtual dental services is a market differentiator. More and more patients expect their dentists to have the ability to help them remotely whenever possible. The demand for virtual sharing, communication, and diagnostics in dental care isn't confined to underserved communities, though. Even in urban areas, dentists can leverage this technology to serve more patients and grow their practice.
Virtual Treatment Planning as a Driver of Patient Acceptance
Most patients, including in dental care, won't readily accept a medical solution or therapy without understanding it first. To boost patient acceptance in dentistry, practitioners have for a long time been explaining their treatment plans using digital visual aids, including images, at their physical dental clinics.
Today, thanks to teledentistry, visual treatment planning has gone virtual. Dentists are using it to safely explain their solutions to patients from the comfort of their homes. In some virtual setups, a patient can remotely take images of their mouth or teeth using smartphone cameras and imaging applications. They can then send those images to their dentist for inclusion in their dental examination and develop a treatment plan.
Teledentistry also makes it a lot easier to remotely share a patient's visual treatment plan with multiple relevant parties, including in-house caregivers and external providers. As a dental practitioner, virtual treatment plans enable you to:
Collaborate on a virtual treatment plan with any relevant caretakers who live in the same household as the patient and weren't available during earlier stages of consultation
Share a treatment plan, including digital visuals, with the patient's spouse, parent, or relative responsible for the patient's healthcare choices
Leverage convenient communication technology to deliver more effective presentations
Safely engage with your patients when it's most convenient for them
Communicate via secure video
Collaborate on patient care with external dental specialists or healthcare providers
In a nutshell, leveraging virtual treatment planning allows you to increase patient acceptance and improve dental care standards. It's also directly related to patient satisfaction.
Teledentistry Boosts Your Patient Satisfaction and Retention Rates
In the COVID-19 era, teledentistry has become the go-to model for delivering diagnostics, consultations, communication, and collaboration without compromising patient and dental care staff safety. The model has a high approval rate among patients that have experienced it, based on some studies, which explains why most of them will readily come back.
A recent survey found that 97% of patients had a pleasant experience with virtual dental care technology across five major categories. Most of the respondents reported an overwhelmingly positive response when asked about key issues like satisfaction and usefulness/relevance of teledentistry to them.
Similarly, most of the patients reported that they found teledentistry systems easy to use and reliable. Another highly rated category was access to clinical services.
When your patients have a safe, virtual, and remote means to have an appointment with you and receive your dental services, most of them are happy to return for reasons such as:
The ability to share images during consultations (visual treatment planning)
Being able to interact live, hear, and speak with you during a virtual appointment
Since patients don't have to commute to your physical clinic, they're happy about being able to save on time and travel and parking costs.
With teledentistry, patients can more easily schedule around work and parental responsibilities.
In 2020, increased use of teledentistry began as a matter of necessity because of COVID-19 shutdowns and movement restrictions. It made it safer for patients and their dentists to interact and communicate. However, virtual dental care is now a practical business model and is critical to patient acquisition, satisfaction, and retention.