Rise of Telemedicine: How Healthcare Providers Can Benefit from It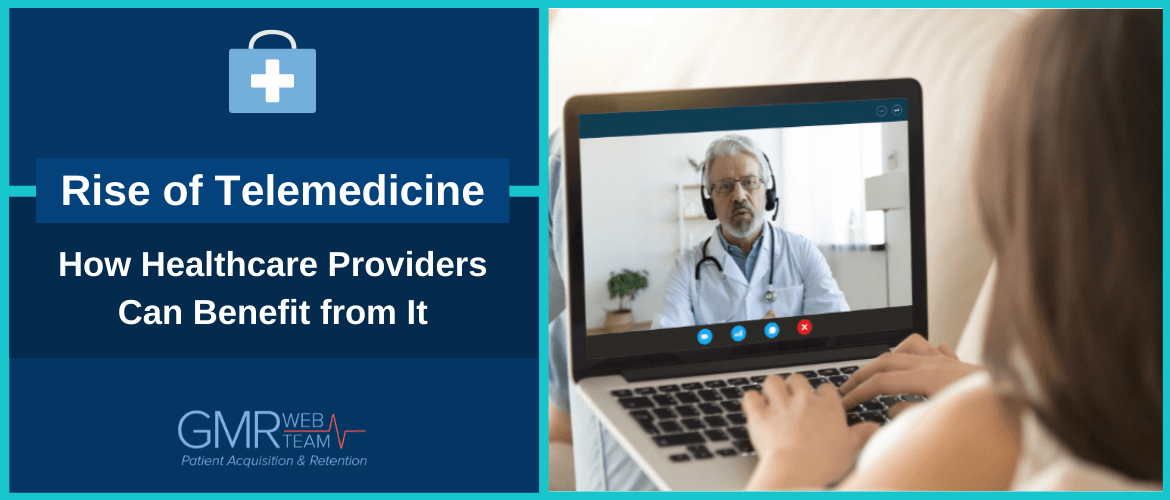 Healthcare also has been drastically influenced and revolutionized by technology over the years. One of the most striking evolutions in this regard has been telemedicine. Telemedicine allows healthcare and medical professionals to diagnose and evaluate patients remotely utilizing telecommunications technology.
At a time when 'social distancing' is the new norm, an increasing number of hospitals and medical organizations are opening up to the idea of telemedicine. According to the latest report on "Global Telemedicine Market," published by Fortune Business Insights, the telemedicine market is set to increase to a market size of $185.66 billion by 2026.
As per the American Telemedicine Association, more than half of all hospitals in the US are using some form of telemedicine. Telemedicine is expected to become a popular and accepted method of diagnosis and evaluation based on all these trends and the rapidly growing demand.
Here is how healthcare practices can benefit from telemedicine:
Reach More Patients
As compared to traditional clinics, telemedicine allows the provider to offer services remotely, thereby maximizing their reach. This means that the physician will be able to attend to more patients during the day via video visits.
By reaching more patients, telemedicine can help boost revenue by eliminating costs associated with transport, office staff, and office space.Providers can then focus on investing in a solid telemedicine marketing plan to attract new patients and generate inquiries and appointments for their services.
Increased Patient Engagement and Satisfaction
Telemedicine allows patients to more easily engage with their physicians than ever before. Virtual visits are perfect for busy lifestyles, follow-up appointments, or chronic care management. In addition, virtual visits can still provide the same level of patient satisfaction.
According to one preliminary survey, virtual visits result in either higher satisfaction or similar satisfaction to in-person visits. This is especially useful for patients who suffer from chronic conditions. Telemedicine marketing can then be used to monitor patient satisfaction and further improve the patient's experience.
Enhanced Flexibility and Convenience
Besides being convenient for patients, telemedicine proves to be equally comfortable for the provider as well! With telemedicine, healthcare professionals enjoy the flexibility of working from home or remotely, thereby helping them achieve the desired work/family life balance.
Healthcare providers will be empowered and confident that they can provide care to their patients from any part of the world, via a video visit. This is an important factor for the patient too! Knowing their doctor is only a computer screen away, patients are assured that care will be available in case of an urgent situation.
ImprovedHealthcare Quality
According to studies, the overall quality of healthcare has shown a constant rise with the approach of telemedicine, as compared to traditional visits to the clinic. This can simply be associated with the availability of real-time consultations whenever the patient deems it necessary. According to studies, telemedicine resulted in 38% fewer hospital admissions and 31%fewer readmissions.
Studies also established that telemedicine led to lower levels of anxiety, stress, and depression in mental health patients. As the quality of care improves, providers can implement telemedicine marketing strategies to get referrals from satisfied patients and improve their online reputation by getting positive reviews on Google. Telemedicine will also ensure that medics can reach out to patients in rural areas who might not have access to any clinics or healthcare facilities in their immediate vicinity.
Fewer Last-Minute Cancellations
Not being able to get off work, transportation issues, or weather conditions on that day may lead to patients canceling their appointments at the last minute or not turning up at all. Last-minute cancellations and no-shows not only hamper profits for the practitioner but can also be extremely frustrating and a complete waste of time. Telemedicine can eliminate most of these factors by bridging the distance between the patient and the provider. Due to whatever reason, if a patient is unable to make it to the clinic, the visit can be switched into a virtual one.
These were several ways telemedicine enhances the practices of healthcare providers, helping them achieve flexibility and efficiency. This growing trend of telemedicine is the best possible approach to acquire more patients and grow your practice.