How to Be a Successful Physician Liaison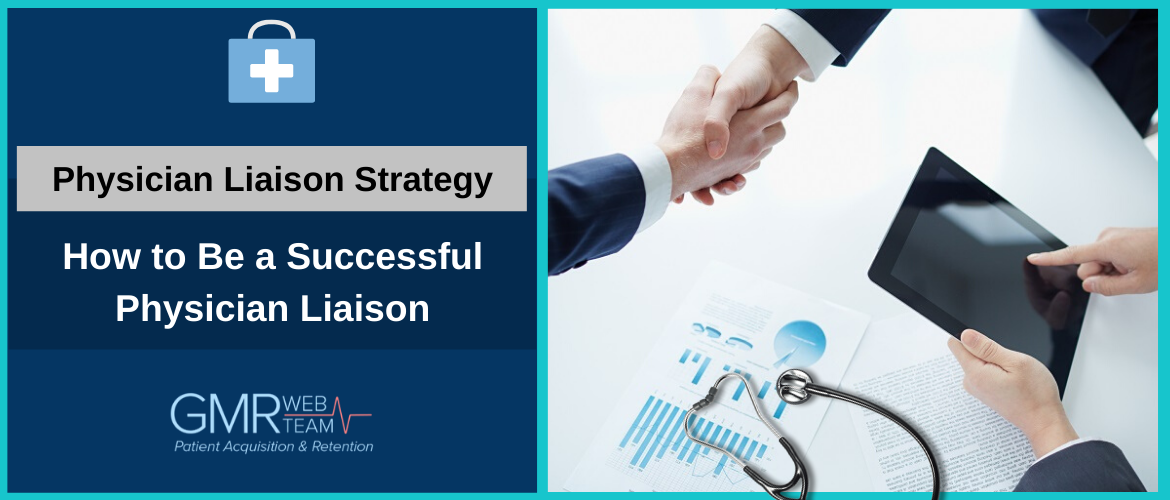 Physicians work hard to provide quality care for all of their patients. They do their best to treat and diagnose injuries and illnesses that come their way. But what happens if the patients are unable to find the right physician to treat them?
That is where physician liaisons come into play. Physician liaisons play a vital role in the business aspect of healthcare practices as they are given the responsibility of developing and sustaining relationships between referring doctors, specialty physicians, and hospitals. Your role is to make sure that doctors are referring the patients to the appropriate physician to treat their injury or illness.
Primary Roles of a Successful Physician Liaison
To be a successful physician liaison, you will perform various tasks for your doctor, practice, or hospital. Here are some roles that you will fulfill:
# Auditing your current marketing efforts
To increase patient referrals and revenue, you must know the healthcare industry and marketing. Knowledge in both these areas will help you to communicate effectively with other doctors and develop an effective marketing plan to increase patient referrals and revenue.
# Patient Experience Expert
Successful physician liaisons ensure that exceptional patient experience is a top priority for all practices that they work with. You will communicate with doctors and other team members, get feedback on what can be improved regarding patient experience, and find a way to incorporate it into the overall plan.
Primary Goals of a Physician Liaison
Your goals will be in line with your practice's goals and every physician liaison typically aims to increase the rate of patient acquisition and grow the practice. Here are two common goals:
# Increase Patient Referrals from Referring Doctors
Even with the growing importance of online presence, referrals are still critical for many practitioners. Therefore, being able to create and maintain positive relationships with patients and other doctors and healthcare practices is one of the most important duties that you will perform.
# Increase Overall Practice Revenue
Knowing how to implement high revenue procedures into the practice's business strategy is a major skill that a successful physician liaison will bring. Their strategy and plans to attract more patient referrals will lead to an increase in the practice's patient base, which in turn leads to an increase in the overall revenue.
How to Become a Successful Physician Liaison
Here are ten tips that you will need to be a successful physician liaison.
#1. Effectively Communicate Between Referring Doctors and Specialty Physicians
Great communication skills to effectively streamline communication between referring doctors and specialty physicians is a must. You will need to cultivate great relationships between both parties as it will ensure both are on the same page and increase patient acquisition.
#2. Understand the Healthcare Industry
Understanding the healthcare industry will contribute immensely to how well you will be able to create and execute marketing plans. For example, cosmetic surgeons will have a very different patient base than family care practitioners. Knowing the difference between specialties and how the industry operates will fuel the practice's success.
#3. Conduct Your Activities in a Professional Manner
You must have a strong professional presence as you will be representing their practice. Professional behavior will help build strong connections with patients and doctors. It will also convey that you are reliable and can handle complex situations with ease.
#4. Be Exceptionally Organized
Being able to effectively organize your marketing plan on increasing patient referrals and revenue will tremendously help doctors understand your thought process. Also, you will be in charge of scheduling meetings between healthcare practices. So, they must be organized to ensure that meetings between doctors are not conflicting.
#5. Be Data-Driven When Examining Performance
You will have to review reports and examine data to assess the performance of your marketing plans. Having an analytical eye to aid in that process will be a valuable tool so that they can better understand if their practice is getting its best return on investment and identify areas of improvement.
#6. Be Flexible and Dynamic
No matter how well you prepare for your marketing strategies, things usually never go as planned. Challenges will come out of nowhere and stall your progress. Be flexible and dynamic with whatever challenges you. If there is a challenge in how to gain more patient referrals, the physician liaison needs to find a way to maneuver around overcome those challenges.
#7. Use Creativity in Executing Strategies
Having a creative mind is a valuable tool to use, especially when it comes to executing strategies. Not only will it assist in creating unique strategies to increase patient referrals, but it will also help you find a way to overcome any unexpected challenges in a creative manner.
#8. Have a Team-Oriented Mindset
In addition to being in constant communication with doctors, physician liaisons will be communicating with the rest of the staff for other healthcare practices as well. You will be discussing strategies to make the overall patient experience better in any way possible. Having a team-oriented mindset will help you work with all members of the healthcare practice.
#9. Be Efficient in Your Work
Physician liaisons contribute a lot to the success of a healthcare practice. The more efficient your strategy is, the more time and money will be saved. Always be on the lookout for ways to streamline processes and improve communication. This could mean consulting with staff members and collecting feedback from patients to determine areas that can be more efficient.
#10. Understand the Importance of Digital Marketing for Healthcare Practice
Nowadays, people use the internet to conduct all of their research when it comes to their personal healthcare. So, a physician liaison needs to have a substantial understanding of the importance of digital marketing for healthcare purposes. With digital marketing always changing, you want to have a thorough understanding of trends and strategies which will bring your practice to the next level.
There is a lot that goes into being a physician liaison. Be sure to follow the above tips, and with consistent effort, you will become a successful physician liaison.